Brixton Theatre
Location: Brixton Oval


1896 Brixton Theatre, Brixton Oval, opened next to Brixton Library.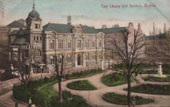 1940 Brixton Theatre bombed. Later demolished (Ritzy expanded into it)

---
Empress Theatre/Granada Cinema
Location: Brixton Terrace

1898 Empress Theatre opened on Brighton Terrace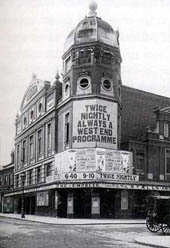 1957 Empress re-opened as Granada Cinema
1992 Empress demolished,

---
Electric Palace
Location: Electric Avenue and 12 Atlantic Road

1909 Electric Palace opened (450 seats)
1915 Closed

---
Duke of York's Picture Theatre/Gaiety
Location: 383-385 Brixton Road, Brixton


1910 Duke of York's Picture Theatre opened (460 seats).
1919 Renamed as The Gaiety
c1925 Closed

---
Electric Pavilion/Pullman Cinema/Classic cinema/ Little Bit Ritzy /Ritzy Picturehouse
Location: Brixton Oval

1911 March: Electric Pavilion (Horner & Lewis)) opened on Brixton Oval.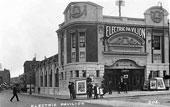 1954 Brixton Pavilion Cinema. renamed Pullman.
1964 Pullman Cinema became Classic.
1976 Classic cinema closed,
1978 April: Classic cinema re-opened by Pat Foster as Little Bit Ritzy., an art-house cinema.
1994 Little Bit Ritzy refurbished & extended as Ritzy Picturehouse.
2009 Bar & music venue added called Upstairs

---
Brixton Cinematograph Theatre/New Royalty /Clifton/Scala
Location: 101-3 Brixton Hill

1911 Brixton Cinematograph Theatre opened (963 seats)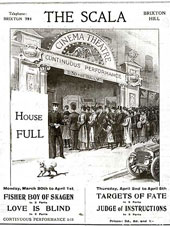 19?? Became New Royalty Kinema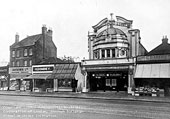 19?? Became Clifton cinema
195? Became Scala
1957 Scala, closed (later a camping shop then a restaurant)

---
Palladium Picture Playhouse/ Regal/ABC/Ace/Fridge
Location: Brixton Hill

1911 Palladium Picture Playhouse (by Gilbert Booth), Brixton Hill, opened.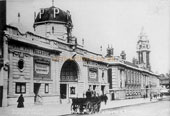 1956 Palladium rebuilt as the Regal.
1963 Regal became ABC Brixton.
1977 ABC became Ace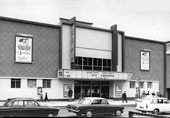 1981 Ace closed.
1985 Re-opened as the Fridge nightclub by Andy & Sue.

---
Astoria.Sundown/Fair Deal/Astoria
Location: Stockwell Road

1929 Brixton Astoria, by Edward Albert Stone, opened as a cinema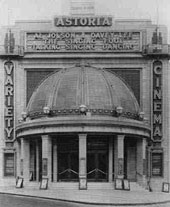 2,982 seats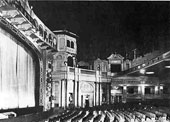 19?? Became Brixton Odeon
1972 Closed as a cinema, became Sundown rock venue.
1973 Sundown closed.
1981 Re-opened as The Fair Deal
1983 Renamed Brixton Academy - became top London music venue.