The Borough (of Southwark) is located by the river Thames. The village centre was around Borough High Street and it was originally in the county of Surrey . The name Southwark comes from OE and may have meant 'southern defence work'.


---
Roman Borough


43-58 London Bridge built by Romans.

---
Mediaeval Borough
(old Southwark)

C11
1014 London Bridge burnt down by King Ethelred to keep out the Danes.
1091 London Bridge wrecked in a storm.
C12
1106 New church founded as St Mary Overie (over the water).
1109 Winchester House built for Bishops of Winchester as London base
(remains on Clink Street).
1122 First mention of St George the Martyr, Borough High Street.
C13
1201 First mention of houses on Old London Bridge.
1206 Most of St Mary Overie destroyed by fire.
1209 Old London Bridge finished (started 1176) built of stone.
1220 St Mary Overie rebuilt in Early English style.
1276 First mention of Borough Market.
C14
1305 Head of William Wallace was first to have his head spiked above
gateway to London Bridge.
1307 Tabard House built for Abbot of Hyde (later became Tabard Inn).
1381 Marshalsea Prison attacked by Wat Tyler and followers during
Peasants Revolt.
C15
1402 Edward VI granted right to hold Southwark Fair.
1406 Reference to White Hart Inn, Southwark.
1408 Poet John Gower buried in St Mary Overie.
1450 Jack Cade used White Hart Inn as his headquarters during his
rebellion.

---
Tudor Borough
(old Southwark)

C16
1509 Early mention of Clink Prison.
1520 Tower of St Mary Overie completed.
1535 Thomas More¹s head spiked above London Bridge gateway.
1537 First complete English Bible printed in Southwark in St Thomas¹
Hospital.
1539 Priory of St Mary Overie suppressed, its church became St Saviour.
1540 Thomas Cromwell¹s head spiked above London Bridge gateway.
1542 Map showed Borough Market located south of St Margaret¹s Church in
Borough High Street.
1546 First mention of bear baiting at Bankside. Visited by Henry VIII and
Elizabeth I.
1554 London Bridge shut to Thomas Wyatt and his rebels.
1592 Rose Theatre opened in Rose Lane.
1592 Swan Theatre opened (west of Hopton Street).
1599 Richard Burridge built Globe Theatre (in Park Street, replicated in
1990s).

---
Stuart Borough (old Southwark)

C17
1613 Hope Gardens opened as a bear Garden (see Bear Gardens Museum).
1614 Church of St Saviour bought from James I by parishioners.
1616 Sermon preached at St Saviour's against plays.
Visscher's View of Old London Bridge.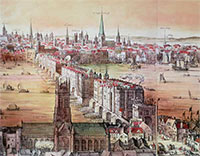 1620 Pillory removed from centre of Borough High Street.
1626 The last Bishop of Winchester to live at Winchester House, buried at
St Saviour¹s.
1629 St George the Martyr was enlarged and repaired.
1633 Half of London Bridge destroyed by fire.
1640 View of London Bridge from the Thames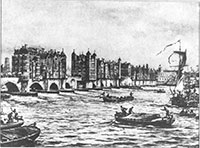 1642 Globe Theatre closed by Puritans.
1640s Winchester House used by Parliament to as prison for Royalists.
1647 Hollar's View of Bankside.



1651 Hay's Wharf became largest wharf in London.
1660 John Evelyn visited Southwark Fair.
1668 Samuel Pepys visited Southwark Fair.
1670 Samuel Pepys visited Bear Gardens.
1663 Park of Winchester House leased for building.
1671 Christ Church built in Paris Gardens (part of old Manor of Paris
Garden).
1676 Southwark Fire destroyed much of Borough High Street including
Tabard, George and other inns. Rebuilt thereafter.
1678 Complaints of disorders at Southwark Fair.
1682 Last Bear Garden closed.
1689 Four pinnacles added to St Saviour' (as seen today).
1700 Cardinal's Wharf built.
1710 Print of London Bridge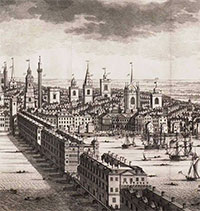 ---
Georgian Borough
(old Southwark)

1721 Guy's Hospital started by Thomas Guy in St Thomas' s Street.
1728 Daniel Defoe visited Southwark on his Tour of England.
1733 Southwark Fair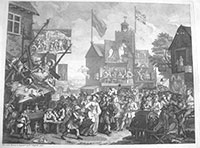 1736 St George the Martyr rebuilt (John Price).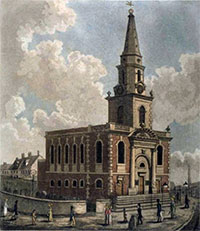 1738 Christ Church rebuilt.
1746 Rocque¹s map of London.
1752 Hopton¹s Almshouses built under will of Charles Hopton.
1762 Houses removed from Old London Bridge.
1763 Southwark Fair suppressed.
1769 Blackfriars Bridge built.
1771 St George¹s Circus¹ obelisk set up (removed in 1905 & put back in
the 1990s).
1775 Anchor opened.
1780 Clink Street destroyed.
Open air meeting at St George¹s Fields - became Gordon Riots.
1787 Courage Brewery established (now demolished).
1790 Pennant wrote in praise of St George¹s Fields.
1800 Southwark remained largely rural.
Print of old Marshalsea Prison debtors' prison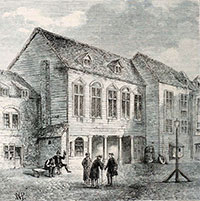 ---
Regency Borough (old Southwark)

1811 New Marshalsea debtors' prison opened.
1814 Bethlem Hospital moved to Southwark from Moorfields.
Most of Winchester House destroyed by fire (wall with rose window
remained).
1819 Southwark Bridge built by Sir John Rennie.
1824 Holy Trinity Church by Francis Octavius Bedford opened on Trinity Square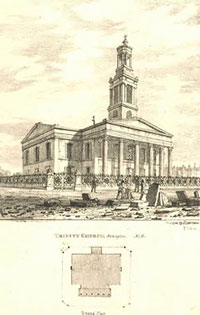 1825 Print of Borough High Street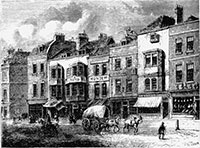 1830 West side of Borough High Street demolished for street-widening and
realignment of London Bridge.
1831 New London Bridge built by Sir John Rennie (100 yards from Old
London Bridge).

---
Victorian Borough
(old Southwark)
1837 Cary's New Plan Of London And Its Vicinity map
1841 St George's Catholic Church in St George's Road by Pugin.
1842 Marshalsea debtors' prison closed
1844 London Bridge Station built in Italianate Style.
1849 London Bridge Station rebuilt in two parts for competing railway
companies.
1849 Marshalsea Prison closed.
1851 Borough Market designed by H. Rose.
1856 Warehouses built for Hay¹s Wharf.

---
Mid Victorian Borough (old Southwark)
1865 St Thomas' Hospital moved from St Thomas Street due to railway
extensions.
1866 Viaduct built above Borough Market and Clink Street to link to
Cannon Street Railway Bridge.
1869 New (current) Blackfriars Bridge opened by Queen Victoria
1871 Stanford Library Map of London and its Suburbs
1873 Talbot Inn (built on the site of the Tabard Inn) demolished
---
Late Victorian Borough (old Southwark)

1880 Church of All Hallows by Gilbert Scott opened.
1889 White Hart demolished.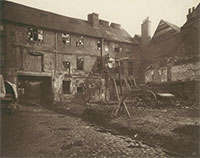 Film of New Blackfriars Bridge .....
1899 Railway extension led to demolition of central and northern wings of
George Inn.

---
Edwardian Borough (old Southwark)

1900 Queen¹s Head inn demolished.
Southwark became a Metropolitan Borough
1905 St Saviour¹s became Southwark Cathedral.
1908 Bartholomew's Atlas Of London & Suburbs
1915 Spa Road Station closed.
---
Interwar Borough (old Southwark)


1921 New Southwark Bridge designed by Sir Ernest George.
1924 War memorial on Borough High Street.
1926 Film of London Bridge
1930 Bethlem Hospital moved to Kent.

---
Borough (old Southwark) in WW2

1940-1941 German bombing raids led to high civilian casualties
---
Postwar Borough (old Southwark)

1957 Terry Dene (born in Lancaster Road) had a Top 20 hit with A White Sport Coat (Decca)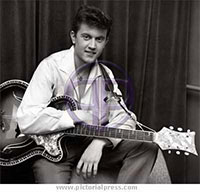 1963 Bankside Power Station opened (now Tate Modern).
1965 Borough of Southwark expanded to include the boroughs of Bermondsey and Camberwell
1971 Bomb damaged Church of All Hallows replaced by smaller church.
1973 New London Bridge built (old one moved to Arizona).
1997 Globe,theatre opened as a modern reconstruction of the original Shakespeare's Globe
1999 Borough Market opened to public with specialist food stalls
2000 Tate Modern opened in the converted Bankside Power Station
---
Booklist:

History & Antiquities of Parish of St Saviour's Southwark - M. Concannen &
A. Morgan (1795)
Old Southwark & Its People - W. Rendle (1878)
Inns of Old Southwark - P. Norman (1888)
Old Bankside - G. Golden (1951)
Southwark Story - F. Higham (1955)
London Borough of Southwark Official Guide (1968)
Thames Crossings - G Phillips (1981).
Southwark An Illustrated History - L. Reilly (1998 London Borough of
Southwark)
The Story of Bankside - L. Reilly & G Marshall (2001 London Borough of
Southwark)