1903 Born at 90 Churchfield Road, Acton on 22 July.
1914 Moved to Eastbourne
1919 Entered Eastbourne School of Art
1922 Awarded scholarship to Royal College of Art. Taught by Paul Nash.
Friends with fellow student Richard Bawden,
1925 Finished college.
1926 Met Tirzah Garwood, and Eastbourne art student.
1927 Taught at Eastbourne & lived with his parents.
Exhibition of watercolours at St George's Gallery, London with Bawden & Bliss
Engraved for Cockerel Press.
1928-30 Painted mural at Morley College with Bawden (destroyed in 1940 Blitz)
1929 Wood engravings published.
1930 Married Tirzah Garwood. Moved to 5 Stratford Road, Kensington
1931 Moved to Weltje Road, Hammersmith
1932 Stayed at Great Bardfield, Essex with Bawden
1933 (30) Worked with his wife on mural for Midland Hotel, Morecambe.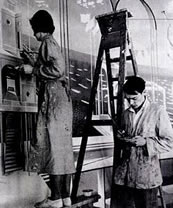 Solo watercolur show at Zwemmer
42 wood engravings for Kynoch Press Notebook.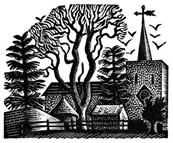 1934 Bought Bank House at Castle Hedingham
Stayed at Furlongs near Lewes,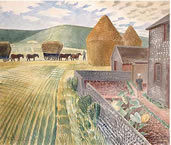 Affair with Helen Binyon.
Pier Pavilion Colwyn Bay mural with his wife.
1935 Designed Everyman Library titles for Dent
Included in an exhibition of Essex artists at Silver End, Essex.
Started on High Street work.
1936 Coronation mug design for Wedgewood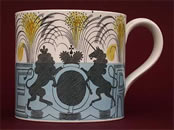 1937 End of affair with Helen Binyon.
Visited John Nash in Buckinghampshire.
1938 (35) Visited Capel-y-Fin.
Visited Dungeness with John Nash.
High Street (24 lithographs with text by JM Richards) published by Curwen Press.
2,000 printed.
1939 Feb: Painted Beachy Head & Lighthouse.
Son James Ravilious born.
Painted hill figures.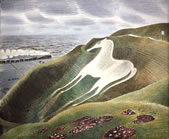 Dec: Official war artist after outbreak of WWJJ.
1940 In Norway.
Exhibition of war artists at National Gallery.
In Gosport where he drew submarines,
Painted sea defences at Newhaven & Eastbourne,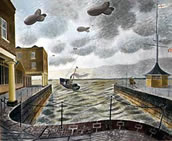 1941 Moved to Ironbridge Farm, Shalford, Essex
Painted at Dover.
Painted in Scotland
1942 With RAF in Yorkshire, Herts & Essex
With RAF in Ireland.
2 Sept: MIA on an air-sea rescue mission.
________________________________________________________________________________
Galleries

Fry Art Gallery, Saffron Waldon, www.fryartgallery.org
Towner Art Gallery, Eastbourne,
________________________________________________________________________________
Books

Em Angel. Wood Engravings of Eric Ravilious (1930)
Engravings of Eric Ravilious (Shenval Press 1946)
Eric Ravilious: A Memorial Exhibition of Watercolours, Wood Engravings, Illustrations & Designs (1948)
Complete Wood Engravings by Eric Ravilious - JM Richards (Curwen Press 1972)
England of Eric Ravilious - F Constable & S Simon (HScolar Press 1982)
Eric Ravilious, Memoir of an Artist - H Binyon (Frederic C Bell 1983)
Eric Ravilious: A Re-assessment of His Life & Work - P Andrew (Towner 1986)
Submarine Dream Lithographs & Letters - Ed. by B Webb (1986)
Ravilious & Wedgewood - R Dalrymple (Richard Dennis 1986)
Imagined Realities - Alan Powers (IWM/Philip Wilson 2003)
________________________________________________________________________________
Website:

www.ericravilious.co.uk/
________________________________________________________________________________