A History of Eastbourne
---
Saxon Bourne
491 Saxons captured Roman castle of Pevesney
---
Norman Bourne
1066 William the Conqueror landed in Pevensey Bay.
1086 Bourne (now Old Town) mentioned in Domesday Book
1114 Henry II visited East Bourne, then a village a mile away from the sea.
---
Medieval Bourne
1175 St Mary's Church built in old East Bourne.
1180 Date of cellar of Lamb Inn
1324 Edward II stayed at Borne Place manor house.
1467 Manor of East Borne founded.
---
Stuart Bourne
1690 Battle of Beachy Head. Dutch & English fleets defeated by French navy.
Allies lost 11 shops but were able to escape to Thames.



---
Georgian Bourne
C18 Bourne Place remodelled as Compton Place in Georgian style
1776 Great Storm
1780 Resort at Sea Horses.
1792 Gilbert Manor House built
1790s Napoleonic War led to plans to fortify the coast to Hastings.
1801 Population was 1,668
1808 Martello tower No 73 - Wish Tower built.
1812 Great Redoubt Fortress (now a museum) built as a barracks.
1834 Belle Tout lighthouse built by Mad Jack Fuller.
---
Victorian East-Bourne
1838 Trinity District Church
1849 Railway reached East-Bourne.
c1850 Darwin wrote part of Origin of Species in East-Bourne.
1858 William Cavendish (1808-1891) became the 7th Duke of Devonshire.





1859 Local government began (sat in Vestry Room built in 1851)..
East-Bourne developed by Duke of Devonshire with parks, baths and squares west of Devonshire Place laid out. His architect was Henry Currey
1870 East-Bourne pier by Eugenius Birch opened.
1873 Devonshire Place laid out.
Cavendish Hotel opened.
1875 Winter Garden (by Henry Currey) opened
Grand Hotel (by opened RK Blessley)
1880 Queens Hotel opened
Sea wall completed
1881 East-Bourne had a population of 22,000, enough to become a town.
1883 East-Bourne received its own Charter
New Theatre Royal & Opera House opened
1884 Devonshire Park Theatre opened
1886 Town hall built





1888 Pavilion added to East-Bourne pier
1899 Theatre replaced Pier Pavilion.



C20
1901 Statue of 7th Duke of Devonshire erected in Devonshire Place
1902 New Beachy Head Lighthouse (replaced Belle Tout)
1903 Lifeboat station opened.
Devonshire Park Theatre opened refurbished by Frank Matcham
1904 New Theatre Royal & Opera House refurbished & renamed Royal Hippodrome.
1905 Debussy composed La Mer at the Grand Hotel





1911 Flying school opened.
1914 Old Town Cinema
The Empire cinema
Eric Ravilious moved to Eastbourne with his family
c1919 Electric Picture Hall
1923 Original Towner Galley & Museum opened in Old Town in the Gilbert Manor House
Alderman John Towner had bequethed 22 Victorian paintings and £6,000 for the establishment of an art gallery.
1940 7 July: First UK residential bombing by Germans
Eastbourne threatened with invasion by Germany. Partly evacuated.
1942-2 Much bombing of Eastbourne by German fighter-bombers.
Suffered 98 German air raids in all.
---
Post-war Eastbourne
1961 Eastbourne Society formed.
1963 Congress Theatre opened as theatre and conference centre.
1964 Central Library built.
1965 South Cliff Tower built.
1970 Brighton pier theatre destroyed.
Eastbourne Historical Society formed
1973 1 Dec: Duke Ellington played Congress Theatre (his last recorded concert).
1981 Arndale Centre opened.
1983 Local History Museum added to Towner Gallery
1988 Sovereign Harbour Marina planned on site of The Crumbles.
1993 Sovereign Harbour Marina opened.
1999 Belle Tout lighthouse moved
2009 New Towner Gallery by Rick Mather opened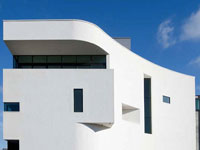 2010 South Down - National Park status.
---
Books

East-Bourne Recollections - RJ Graham (1888)
By-gone East-Bourne - JC Wright (1902)
East-Bourne Memories - George F Chambers (VT Sumfield c1910)
Eastbourne: A Pictorial History - D Robert Elleray (Phillimore 1978)
A Brief History of Eastbourne - AGS Esner (Eastbourne LHS 1978)
Street Names of Eastbourne - Harold D Spears (Eastbourne LHS 1981)
A Short History of Eastbourne - Lawrence Stevens (Eastbourne LHS 1987)
---