Stuart London
1600 The East Indian Company founded in England. Aim was to trade with the Indian sub-continent
1619 East Indian Company trading post established in Surat, Gujerat.
1639 East Indian Company trading post established in Madras (Chennai)
1668 East Indian Company trading post established in Bombay (Mumbai).
1690 East Indian Company trading post established in Calcutta.
Lascars - seamen, mainly from Bengal - helped to man British ships

---
Georgian London
C18 print of the EIC's Fort George in Madras.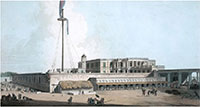 1727 The Art of Cookery Made Plain and Easy by Hannah Glasse included Indian recipes.
1767 The Modern Art of Cookery Improved by Ann Shackleford featured Indian recipes.
1773 Curry mentioned on the menu of the Norris Street Coffee House, Haymarket, London.
Menu offered "true Indian curey paste … at the shortest notice [send] ready dressed curey and rice, also India pilaws, to any part of the town.
1783 The London Art of Cookery by John Farley contained Indian recipes.
1784 Curry and rice had become house specialities in some Piccadilly restaurants
1803 East India Docks opened on the Isle of Dogs.
1804 471 lascars settled in London.
---
Regency London
1810 1400 lascars settled in London.
The Hindoostane Dinner & Hooka Smoking Club in George Street, Marylebone, was the UK's first Indian restaurant. It sold Indo-British food. It was also the first takeaway as most people still dined at home. It was opened by a Bengali Sake Dean Mahomed (Patna, Bihar 1759-1851), who was a captain in the British East India Company.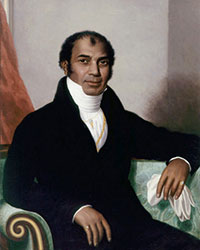 ---
Victorian London
1847 Queen Victoria and her family served Curry de poulet for dinner at Windsor Castle.
1861 Dr Bokanby, an ex-lascar, sold herbs in Petticoat Lane.
1874 East Indian Company dissolved and India became part of the British crown.
1877 Queen Victoria made Empress of India.
1887 Queen Victoria's faithful servant Abdul Karim (1863–1909) cooked her a chicken curry, daal, and a pilau. In her diary she noted appreciatively: "Had some excellent curry prepared by one of my Indian servants. 1889 A Sharwood set up a limited company
1893 Photo of Karim & the Queen.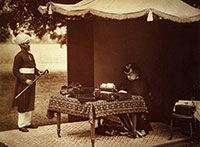 A Sharwood distributed a curry powder from a supplier in Madras.
1899 JA Sharwood set up a limited company and opened a factory in Vauxhall.
---
Edwardian London
1911 Salut e Hind opened in Holborn.
---
Inter-War London
1920 The Shafi opened at 18 Gerard Street, Soho by Yassim and Rahim Mohammed. It employed ex-seamen. The restaurant was a comforting home from home for lonely Indian students.
1920s The Kohinoor opened in Roper Street, London (demolished in 1978). The founder was Bir Bahadur from Delhi. Hs family opened restaurants across the UK and Kohinoor became the first UK Indian restaurant chain.
Ayub Ali Master opened a Curry café in Commercial Street, East London. He later founded the Indian Seaman's Welfare League.
1926 Veeraswamy's opened at 99-101 Regent Street by Edward Palmer a retired British Indian Army officer & the grandson of an English general and an Indian
princess. Originally the restaurant served Anglo-Indian dishes. Still open today.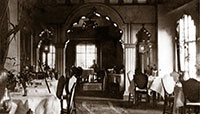 1932 The Indian National Congress survey of 'all Indians outside India' estimated that there were 7,128 Indians in the United Kingdom, which included students, former lascars, and professionals such as doctors.
Photo of Lascars on RMS Viceroy of India (1929-1942), a P&O liner.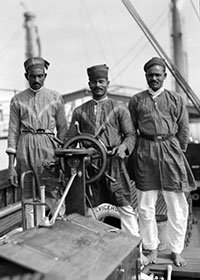 1936 Taj Stores opened on Hunton Street (now Buxton Street) just off Brick Lane. It is London's oldest Asian greengrocer. Now located on Brick Lane.
1938 Shah Abdul Majid Qureshi took over the Dilkush in Windmill Street, Soho. It was the first Sylheti-owned restaurant in the West End.
1939 The Halal cafe established in St Mark's Street, Aldgate. It was originally as a hotel. Still open today.
---
WW2 London
1940 Dilkush destroyed in the Blitz
1942 The Anglo Asian opened oat 146 Old Brompton Road by Mosrof Ali and Israel, Miah.
---
Post War London
1946 Punjab established in London. Moved to Covent Garden in 1951. Still open today.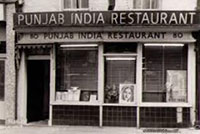 1947 India became independent.
Bengali immigrants settled in Tower Hamlets. Several Sylheti-owned cafés selling hot drinks and snacks opened in Brick Lane.
1950s Influx of Punjabis into Southall to work at Woolf's Rubber factory.
1957 Shanta Patahk and her husband opened a shop in Drummond Street by Euston station.
IIt was the start of a multi-million business selling spices to Indian restaurants and supermarkets.
Moti Mahal established in South Kensington. Still open today.
1958 Maharini established in Clapham. Still open today.
First Punjabi restaurant opened in Southall.
Star Café, established at 66 Brick Lane.
1960 500 Indian restaurants in the UK.
1964 Vijay (South Indian) opened in Kilburn. Still open today.
1967 The Famous Clifton opened on Brick Lane. Being licensed it had an English cliental.
1968 Asians emigrated to UK from Kenya.
1970 1,200 Indian restaurants in the UK
Many Bangla Deshi seamen settled to UK to open restaurants with menus adapted to sweeter English tastes.
1971 Diwana Bhel Poori House opened in Drummond Street. More Indian restaurants moved there as it was next to Euston station.
1972 Asians expelled from Uganda came to Britain.
Tayyabs opened in Whitechapel.
1973 Sree Krishna opened in Tooting. First South Indian restaurant in South London.
1975 Brilliant opened in Southall.
1978 Kingfisher Beer introduced.
1980 3,000 Indian restaurants in the UK
Brick Lane had four restaurants and four cafés serving curry.
1982 Curry Club established.
Bombay Brasserie opened by Adi Modi in Kensington, SW7. It was the first of the upmarket Indian restaurants. Celebrities seen there included Mick Jagger & Princess Diana. It offered the authentic food of Bombay in all its ethnic variety.
1983 Amin Ali's contemporary Red Fort opened in Soho. Focused on regional cuisine of India.
1989 Kingfisher Beer introduced.
Real Curry Restaurant Guide published.
1990 Chutney Mary's opened at 535 King's Road, Chelsea.
1994 Tandoori magazine established.
1995 Tamarind opened in Mayfair.
1997 Andy Varma's Vama opened at 438 King's Road, Chelsea (closed 2010).
1999 Zaika opened in Kensington.
Quilon established in Pimlico.
Brick Lane at its peak became known as Bangla Town.
---
C21 London
2001 Tamarind awarded a Michelin Star (chef Atul Khochhar)
Zaika awarded a Michelin Star (chef Vineet Bhatia).
Cinnamon Club opened in Westminster by Vivek Singh.
First Masala Zone opened in Soho (Indian street food chain).
The Foreign secretary Robin Cook declared chicken tikka masala to be the UK's "true national dish".
(Origin of Chicken Tikka Masal may have been a tin of tomato soup added to Chicken Tikka, as the Tikka was too dry for English taste!)
2003 Benares opened in Berkeley Square by Atul Khochhar.
2004 Bombay Bicycle Club chain established. 17 outlets in UK.
2008 Trishna opened in Marleybone.
Quilon became the first South Indian to win a Michelin star in 2008.
2010 Dishoom chain established.
2011 Bombay Bicycle Club chain closed down.
2013 Pukhraj Cider introduced by Sureesh Patel with Hogan's Cider.
Gymkhana opened in Mayfair.
2014 Mowgli street food chain established in UK.
2015 Kricket chain established in Brixton.
Gunpowder opened in Spitalfields.
Hoppers opened in Soho.
2016 12,000 Indian restaurants in the UK.
New immigration rules made it difficult to bring a chef from South Asia. According the Evening Standard (15/6/16) about 600 Indian restaurants have closed in the past 18 months and there are fears that a further four thousand, about a third of the industry, could shut.
Peacock cider by Aspall for Kingfisher (inspired by Pukhraj?).
2017 Darjeeling Express founded by women chefs in Soho.
2018 Kutir opened in Chelsea by Rohit Ghai.
2019 KAMA established on Harrods Dining by Vineet Bhatia.
2020 8,000 Indian restaurants in the UK.
Decline in Brick Lane from 66 outlets to 23. (New Statesman)
---
Across Seven Seas and Thirteen Rivers: Life Stories of Pioneer Sylhetti Settlers in Britain - CarolineAdams, (THAP, 1987)
The Roots and Tales of the Bangladeshi Settlers - Yousuf Choudhury (Sylheti Social History Group, 1993)
Curry in the Crown - Shrabani Basu (Indus, 1999)
Asians in Britain: 400 Years of History - Rozina Visram (Pluto, 2002)
Curry: The Story of the Nation's Favourite Dish - Shrabani Basu, (Stroud: Sutton, 2003)
Curry Culture - Peter and Colleen Grove (Collins & Brown, 2003)
Curry: A Biography - E. M., Collingham (Chatto & Windus, 2005)
The Anarchy: The Relentless Rise of the East India Company - William Dalrymple (Bloomsbury, 2019)