A definitive guide to the best Indian (sub-continent) restaurants in London.
Click on the following or search by post code:
East London
North London
North West London
South East London
South West London
West London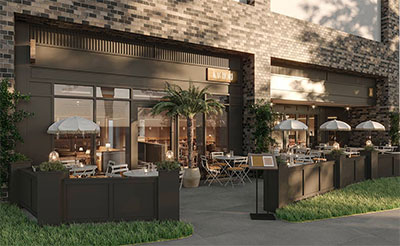 Kachori is the latest restaurant to open at Elephant Park, a popular foodie quarter in SE London. The owner is Sorowar Khan (Mango, SE1) lives at Elephant Park and asked concept creator Humayun Hussain to design a suitable restaurant for him there. The chef is Brinder Narula (ex-Gymkhana) who focuses on cuisine from the North India (Rajasthan, Punjab, Uttar Pradesh, Haryana and Delhi).
A Timeline History of Indian Restaurants in London
---
---
Brick Lane (E1)
Brick Lane Brasserie (est. 2002) 67 Brick Lane, E1 6QL
City Spice (est. 1996) 138 Brick Lane, E1 6RU
Cuisine: N Indian/Bengali. 110 covers.
Monsoon (est. 2002) 78 Brick Lane, E1 6RL
Cuisine: Bangladeshi & South Indian.
Nazrul (est. 1979) 130 Brick Lane, E1 6RU
Cuisine: North Indian.
Canary Wharf (E14)
Mr Todiwala's Kitchen, Lincoln Plaza London, 2 Lincoln Plaza, E14 9BD
Chef/owner: Cyrus Todiwala.
East Ham (E6)
Taste of India, 293-295 High Street North, E12 6SL Film
Large Cafe serving vegetarian dosa snacks, thalis, tandoori favourites and tiffin
Udaya (est. 1999) 105 Katherine Road, E6 1ES.
Keralan cuisine. Latest news.
Whitechapel (E1)
Cafe Spice Namaste (1996-2021) 16 Prescot Street, E1 8AZ
This was London's only Parsi restaurant. Chef/owner: Cyrus Todiwala.
Try Mr Todiwala's Kitchen.
Lahore Kebab House 2-10 Umberston Street, E1 1PY
Pakistani cuisine. Nephew of Tayyabs founder.
Needoo Grill (est. 2009) 85-87 New Road, E1 1HH map
Punjabi cuisine. Owner worked at Tayyabs. Latest news
Tayyabs (est. 1972) 83-89 Fieldgate Street, E1 1JU
Classic Pakistani cuisine.
---
---
Euston (N1)
Diwana Bhel Poori House (est. 1970) 121-123 Drummond Street, NW1 2HL
Raavi Kebab (est. 1976) 125 Drummond Street, NW1 2HL
Pakistani cuisine. Review
Ravi Shankar (est. 1982) 133-135 Drummond St, London, NW1 2HL
Indian vegetarian restaurant
Stoke Newington (N16)
Rasa (est. 1994) 55 Stoke Newington Church Street, N16 0AR map
Keralan cuisine. Founded by Das Sreedharan. Latest news.
---
---
Kilburn (NW6)
Vijay (est. 1964) 49 Willesden Lane, NW6 7RF
The first South Indian restaurant to open in the UK.
Wembley (HA9/HA0)
Saravanaa Bhavan 22A Ealing Rd, Wembley HA0 4TL
Vegetarian restaurant franchise founded in 1981. Over 100 outlets worldwide.
Sarashwathy Bavans 549 High Road, Wembley, HA0 2DJ map
South Indian specialising in dosas and thalis. Catering service
---
---
Bermondsey (SE1)
Tower Tandoori (est. 1978) 74-76 Tower Bridge Road, SE1 4TP
Blackheath (SE3)
Chinipan (est. 2016) 15 Old Dover Road, SE3 7BT
See A Guide to Indian Restaurants in Blackheath, SE3
Brockley (SE4)
Masal Wala (est. 2015) 5 Brockley Cross, SE4 2AB map
Cuisine: Punjabi. Founded by Nabeela & her daughters.
Review. Latest News.
Saka Maka (est. 2016) 171 Brockley Road, SE4 2RS
North Indian.
Camberwell (SE5)
New Dewaniam (est. 1980) 225a Camberwell New Road, SE5 0TH map
Camberwell's only Indian restaurant. Entrance on Wyndham Road.
Covers: 120. Underground: Oval. Home delivery service. Owners: Jay &
Crystal Palace (SE19)
Eastern Cuisine 138 Gipsy Hill, SE19 1PW
More at A Guide to Indian Restaurants in Crystal Palace, SE19
Deptford (SE8)
Hullabaloo 111b Deptford High Street, SE8 4NS
Vegetarian and vegan.
East Dulwich (SE22)
Dulwich Tandoori (est. 1982) 54 Lordship Lane, SE22 8HJ
Bustling Bangla-Indian with vegan dishes.
See A Guide to Indian Restaurants in East Dulwich, SE22
Elephant & Castle (SE1)
Chatkhara 84 Walworth Road, SE1 6SW
Pakistani cafe.
Forest Hill & Honor Oak (SE23)
Babur (Est. 1984) 119 Brockley Rise, SE23 IJP
Cuisine: N. Indian/Pakistani
See A Guide to Indian Restaurants in Forest Hill, SE23
Greenwich (SE10)
Hullabaloo 10 Greenwich Church Street, SE10 9BJ
Indian street food. Vegetarian and vegan.
Kennington (SE11)
Gandhi's (est. 1982) 347 Kennington Road, SE11 4QE
Lewisham (SE13)
Everest Curry King 24 Loampit Hill, SW13 7SW
Sri Lankan & South Indian
Saka Maka 2 (Dec 2020) 226 Hither Green Lane, SE13 6RT
North Indian cuisine.
See Lewisham Indian Restaurants in Lewisham, SE13
Peckham & Nunhead (SE15)
Ganapati (est. 2004) 38 Holly Grove, London SE15 5DF map
South Indian restaurant blog. Home delivery: Maxted Road. Latest News.
Two Sisters Tandoori (est. 1990) 4 Gibbon Road, SE15 2AS
Delivery kitchen.
West Dulwich (SE21)
Heritage (est. 2021) 101 Rosendale Road, SE21 8EZ
Indian fine dining from Executive Chef Dayashankar Sharma.
West Norwood (SE27)
Indian Dining Club (est. 2007) 244 Gipsy Road, SE27 9RB
Woolwich (SE18)
Kailash Momo 79 Woolwich New Road, SE18 6ED map
London's only Tibetan restaurant. Film South Asian influences.
Named after a Himalayan mountain peak. Manager: Tenzin Latest news
---
---
Balham (SW12)
Indian Room 59 Bedford Hill, SW12 9EZ
Battersea (SW11)
Cinnamon Kitchen (2018) 4 Arches Lane, SW11 8AB map
Pan Indian restaurant. Chef/owner: Vivek Singh. Latest news.
Brixton (SW9)
Kricket (est. 2015) 41-43 Atlantic Road, SW9 8JL
Founded at Pop Brixton by Will Bowlby and Rik Campbell.
Chelsea (SW3)
Kahani (est. 2018) 1 Wilbraham Place, SW1X 9AE
Film Review
Clapham (SW4)
Zumburu (est. 2013) 36A Old Town, SW4 0LB
Indian food London-style with cocktails.
Croydon (CR0)
Banana Leaf (1988) 7 Lower Addiscombe Road, CR0 6PQ
South Indian cuisine.
Spice Village (est.2020) 45 Imperial Way, CR0 4RR map
Pakistani cuisine. Feature Branches: Southall, Southend. Film
Innovative drive-in & dine service. Latest news.
See A Guide to Indian restaurant in Croydon, CR0
Norbury (SW16)
Karachi, 1113-1115 London Road, SW16 4XD
Pakistani cuisine.
Spice Lounge, 437-439 Streatham High Road, SW16 3PH
Savio's Olde Goan has sadly closed. We recommend Ma Goan in Putney.
Putney (SW15)
Kashmir 18-20 Lacy Road SW15 1NL
Chef: Razdan
Ma Goan (est. 1993) 242-244 Upper Richmond Street, SW15 6TG
Family-run Goan restaurant with a mix of Portuguese and Indian flavours in dishes.
South Kensington (SW7)
Moti Mahal (est.1957) 3 Glendower Place, SW7 3DU
Founded by cousins who came to the UK from Bangladesh.
Tooting (SW17)
Apollo Banana Leaf 190 Tooting High Street, SW17 0RN
South Indian & Sri Lankan cuisine.
Royal Mahal (est. 2020), 32-36 Upper Tooting Road, SW17 7PD map
Previously known as Spice Village. Latest News.
Namak Mandi(est. 2010) 25 Upper Tooting Road, SW17 7TS
Pashtun cuisine from Northwest Pakistan
See A Guide to Indian Restaurants in Tooting, SW17
Vauxhall (SW8)
Hot Stuff (est. 1988) 19 Wilcox Road, SW8 2XA Review
Indian with West African influences. BYO. Seating: 25.
---
---
Bayswater (W2)
Khan's (est. 1977) 13-15 Westbourne Grove, W2 4UA
Long-established no-frills Indian restaurant serving traditional cuisine, but no alcohol.
Covent Garden (WC2)
Cinnamon Bazaar (2016) 28 Maiden Lane, WC2E 7JS map
Pan Indian dishes. Chef/owner: Vivek Singh. Latest news.
Darjeeling Express (opened 2020) 2a Garrick Street, WC2E 9BH
Family-owned eatery offering an array of refined Indian dishes.
Dishoom (est. 2010) 12 Upper St Martin's Lane, WC2H 9FB map
Film UK Chain offering concept all day dining. Latest news.
Punjab (est. 1946), 80 Neal Street, WC2 H 9PA
One of London's oldest Indian restaurants.
Fitzrovia (W1)
Palms of Goa (est. 1994) 12 Charlotte St, London W1T 2LU
First Goa restaurant in West End. Founded by Mr Eugene Dias and Shabhidin Gharuk.
Hounslow (TW3)
Shree Krishna Vada Pav 121 High Street, TW3 1QL
Maharashtrian cuisine (vegetarian)
Isleworth (TW7)
Memories of India, 160-162 Thornbury Road, TW7 4QE
Kingston (KT1)
Chakra 1 Riverside Walk Bishops, Palace House, KT1 1QN
Branch: Kensington
Maida Vale (W9)
Dhaba@49 49 Chippenham Road, W9 2AH
North Indian (Punjabi) cuisine
Marleybone
Trishna (est. 2008) 15-17 Blandford Street, W1U 3DG
Western Indian coastal cooking.
Mayfair
Benares (est. 2007) 12a Berkeley Square, W1J 6BS map
Upscale Indian-British fusion cuisine. Latest news.
Gymkhana (est. 2013) 42 Albemarle Street, W1S 4JH
Inspired by the elite clubs of India where members of high society socialise, eat, drink and play sport.
Tamarind (est. 1995) 20 Queen Street, W1J 5PR
Feature. Latest news.
Soho (W1)
Hoppers (est. 2015) 49 Frith Street, W1
Sri Lankan cuisine. Observer
Southall (UB2)
Brilliant (est. 1975) 72-76 Western Road, UB2 5DZ map
Punjabi with Kenyan influences. Film Covers: 220. Latest news.
Book: Beyond Brilliant - Dipna Anand (2014)
Chandni Chowk 106 The Broadway, UB1 1QF
Punjabi cuisine.
Westminster (SW1)
The Cinnamon Club (est. 2001) Old Westminster Library, Great Smith Street, SW1P 3BU
Pan Indian dishes served in book-lined former Victorian library with downstairs cocktail bar
Chef/owner: Vivek Singh. Film. Latest news.
UK Chefs
Dishoom from Bombay with Love - Shamil Thakrar (Bloomsbury 2019)
Khazna - Saliha Mahmood Ahmed (Hodder & Stoughton 2018)
Mowgli Streetfood - Nisha Katona (Nourish Books 2018)
Spice At Home - Vivek Singh (Absolute Press 2014)
Beyond Brilliant - Dipna Anand (2014)
The Incredible Spice Men- Cyrus Todiwala & Tony Singh (BBC 2013)
Writers:
Indian Vegetarian Cookbook - Pushpesh Pant (Phaidon 2018)
India Cookbook - Pushpesh Pant (Phaidon 2010)
An Invitation to Indian Cooking - Madhur Jaffrey (1973)
Regions of the India Sub-Continent:
Bengali Five Spice Chronicles - Rinku Bhattacharya (Hippocrene Books 2012)
Taste of Goa - Mridula Baljekar (Murdoch Books 1995)
Complete Gujerati Cook Book - Tarla Dalal (Sanjay & Co 2007)
Kashmiri Cuisine: Through the Ages - Sarla Razdan (Roll Books 2020)
Essential Kerala Cookbook - Vijayan Kannampilly (Penguin 2003)
Essential Marathi Cookbook - Kaumudi Marathé (Penguin 2009)
Taste of Nepal - Jyoti Pathak (Hippocrene Books 2007)
Food & Cooking of Pakistan - Shehzad Husain (Lorenz Books 2016)
The Art of Parsi Cooking - Niloufer Mavalvala (Austin Macauley 2016)
Menus and Memories from Punjab - Rani Sidhu (Hippocrene Books 2009)
Classic Cooking of Rajasthan - Kaira Jiggs and Raminder Malhotra (2007)
Royal Hyderabadi Cooking - - Sanjeev Kapoor (Popular Prakashan Ltd 2010)
Dakshin: Vegetarian Cooking from South India - Chandra Padmanabhan (1999)
Sri Lanka: The Cookbook - Prakash K Sivanathan and Niranjala M Ellawala (2017)
Aharam: Traditional Cuisine of Tamil Nadu - Sabita Radhakrishna (Partridge Publishing 2019)
Lhasa Moon Tibetan Cookbook – Tsering Wangmo (1998)
Advertise