Rotherhithe may have meant 'landing place for cattle'. Also known in past as Redriff.

---
Mediaeval Rotherhithe


1014 King Canute attacked Danes in London by digging a canal to bypass the defended London Bridge.
1350s Manor house for Edward III built.
1370s English Fleet fitted out for war with France under Black Prince and John of Gaunt.
1412 Henry IV stayed in Rotherhithe ill with leprosy.

---
Tudor Rotherhithe


1550 Shippe inn built in Rotherhithe High Street (later Spread Eagle, Crown and Mayflower in 1956).

---
Stuart Rotherhithe

1612 Rotherhithe shipwrights awarded a Royal charter.
1613 Peters Hill School founded.
1622 Captain Christopher Jones of Mayflower buried in St Mary's churchyard.
1664 Samuel Pepys visited Cherry Garden in Rotherhithe.
1682 Early mention of Angel inn.
1697 Howlands Dock constructed as first London docks (later Greenland Dock).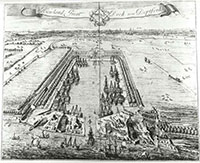 1710 St Mary's Church damaged due to flooding.

---
Georgian Rotherhithe

1715 New St Mary's built.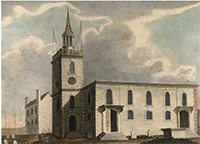 1725 Howlands Great Dock leased to South Sea Company.
1746 Old tower of St Mary's demolished.
1748 Stone spire added to St Mary's.
1763 Howlands Dock sold & renamed Greenland Dock (used by whaling ships)..
1790s Some of the earliest steamships built at Rotherhithe.
1797 Peters Hill School moved to present position in St Marychurch Street.
1801 Grand Surrey Docks & Canal Company formed. Plan was to link Rotherhithe with Portsmouth (via Epsom).
1802 Work began on Grand Surrey Canal (Ralph Dodds).
1806 William Richie bought deeds to Greenland Dock - renamed Commercial Dock
1807 William Richie founded Commercial Dock Company
Rival East Country (later South) Dock built.
Grand Surrey Basin dock opened.
1809 Rival Baltic Dock opened (later acquired by Commercial Dock Company).
1811 Grand Surrey Canal stopped at Camberwell Road.
1812 CDC opened 4 new docks: Baltic & Norway Docks plus Acorn & Lavender Ponds
+ Russia Dock?
1826 Extension of Grand Surrey Canal to Peckham.
________________________________________________________________________________

Early Victorian Rotherhithe
1838 Temeraire, veteran 3 deck ship of Battle of Trafalgar, broken up at Beatson's Yard.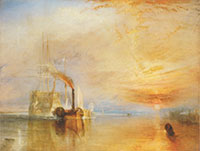 1842 Brunel Engine House built.
1843 Thames Tunnel built by Brunel (started in 1825) as a pedestrian tunnel to Wapping.
1850 East Country Dock bought by Commercial Dock Co - enlarged & renamed South Dock
1855 Grand Surrey Dock Company and Commercial Dock Company amalgamated.
---
Mid Victorian Rotherhithe

1860 Albion docks completed.
1863 Lavender Lock (?) built.
1864 Commercial Dock Company amalgamated with the Surrey Commercial Dock Co. as the Surrey Commercial Dock Company. Links were opened between the two sets of docks and ponds. 80% of UK timber imports passed through Surrey Commercial Docks.
1865 Thames Tunnel acquired for railway.
1869 Southwark Park opened (previously islands and market gardens).
1876 Canada Dock opened.
The Grand Surrey Canal Dock and Canal Company had earlier built a number of four timber ponds to their system. This included Timber Pond No 4 (later named Canada Pond). It became the basis of Canada Dock. After construction of Canada Dock the remains, named Canada Pond, lay parallel and to the west of the Dock. This later pond was connected to both Canada Dock and Quebec Pond.
---
Late Victorian Rotherhithe
1884 Rotherhithe Underground Station opened to Wapping.
1887 Surrey Docks offices opened.
1889 Dockers Strike in Surrey Docks.
1895-1904 Greenland Dock expandsion begun by Sir John Wolfe-Barry.
It was doubled in length & depth & cut across old Grand Surrey Canal connecting with Canada Dock. Large lock added.
1899 Terris Theatre opened on Lower Road. Designed by LR Sprague (1907 renamed Rotherhithe Hippodrome but destroyed in WW2).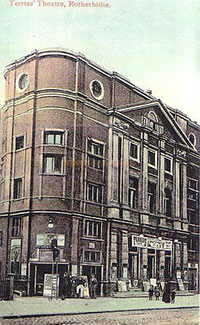 ________________________________________________________________________________

Edwardian Rotherhithe
1900 Parish of St Mary became part of Borough of Bermondsey in London.
1904 Greenland Dock expanded.
1906 Docks came under control of Port of London Authority.
1908 Rotherhithe Tunnel built.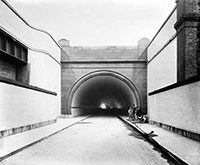 ---
Inter-War Rotherhithe

1926 Quebec Dock opened
Arial photo of Surry Commercial Docks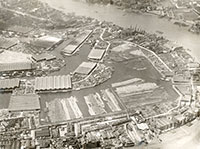 1927 St Olave's Church built as a seaman's mission for Norwegian sailors.
---
Rotherhithe in WW2

1940 7 Sept: Blitz on Surrey Docks by German bombers. 350,000 tons of timber destroyed.
1944 Phoenix breakwaters (for D-Day Mulberry harbours named after Mulberry Quiay) built at Quebec & Russia Yard.
South Dock drained to build concrete breakwaters?.

---
Post War Rotherhithe

1952 Opening Of New Surrey Lock Bridge (film).
1958 Deal porters jobs lost after mechanisation.
1965 Borough of Bermondsey became part of Borough of Southwark.
1966 New docks at Tilbury received packaged goods.
1969 Russia Dock filled in
1970 Surrey Commercial Docks closed.
1971 Grand Surrey Canal filled in.
1975 Surrey Docks Farm opened by Hilary Peters. 2.2 acres by the Thames with chickens, ducks, goats, sheep, cows & pigs
1977 Surrey Commercial Docks sold to Southwark Council.
Infilled 423 of 460 acres of dock water. Built feeder roads (Salter etc) .
Riverside warehouses demolished.
Southwark Council's development Film (19 minute).
1979 New housing built on Docks.
1980 Russia Docks Woodland planted (34.5 acres).
1981 LDDC took over docks development from Southwark Council.
1982 Lavender Pond Nature Park opened.
Lavender Pump House became Rotherhithe Heritage Museum.
1984 Stave Dock filled in,
1985 Stave Hill built. 30ft high out of waste material & rubble.
1986 Surrey Docks Farm moved to new buildings.
1988 Stave Hill Ecological Park managed by Trust For Urban Ecology.
1988 Surrey Quays Shopping Centre opened on site of Canada Dock.
Tube renamed Surrey Quays.
1989 Associated Newspapers opened a printing plant.
1990 Redriff School opened.
Surrey Docks watersports Centre opened.
1991 Scandic Crown Hotel opened at Nelson Dock (leter Holiday Inn & Hilton).
Columbia Wharf.
1994 South Dock a marina with 200 berths.
1999 Canada Water opened (Jubilee Line).