Bermondsey is located by the river Thames. The village centre was around Abbey Street. The name comes from OE and may have meant 'Beornumund's Island'. Bermondsey was a district of marshes.
---
Norman Bermondsey
1082 Bermondsey Abbey founded as a Cluniac monastery.
1086 Reference to Bermundeseye church in Domesday Book.
1127 Bermondsey Abbey given land in Dulwich and elsewhere by Henry I.
---
Mediaeval Bermondsey
1154 Henry II held his court at Bermondsey Abbey, early version of Parliament.
1392 Early mention of tanners in Bermondsey.
1450 Reference to Bermonsey.

---
Tudor Bermondsey
1538 Bermondsey Abbey taken by the crown.
1541 Bermondsey Abbey demolished to make Bermondsey House in 20 acres.
Print of Bermondsey Abbey remains in 1805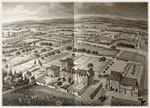 1560 St Olave's Grammar School built on Tooley Street.
c 1569 Painting of a celebration in Bermondsey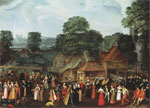 1570 Elizabeth I visited Sir Thomas Pope at Bermondsey House.
1592 Swan Theatre opened (west of Hopton Street).
---
Stuart Bermondsey

1667 St Mary Magdalen (prev. church for Bermondsey Abbey) rebuilt (now much altered).
Print of St Mary Magdalen in 1809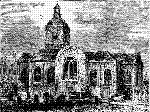 1703 Leather industry in Bermondsey granted charter by Queen Anne.
---
Georgian Bermondsey
1721 Guy's Hospital started by Thomas Guy in St Thomas's Street.
1746 Rocque's map of London.
1800 Southwark remained largely rural.

---
Regency
Bermondsey
1837 Cary's New Plan Of London And Its Vicinity map
1829 St James' Church built near Jamaica Road by James Savage.
1836 First London railway started from Spa Road, Bermondsey to Deptford.
Later linked to London Bridge.


---
Victorian Bermondsey
1839 Croydon Railway opened.
1844 Bricklayers Arms opened in Old Kent Road.
1866 Viaduct built above Borough Market and Clink Street to link to Cannon Street Railway Bridge.
1867 Star Music Hall, 189 Abbey Street Bermondsey opened. Part of Star & Garter pub.
1869 Tower Subway opened (linked to Tooley Street).
1871 Stanford Library Map of London and its Suburbs
1873 Butlers Wharf opened




1879 Bermondsey Leather market built.
1885 New Concordia Wharf grain warehouse by. Seth Taylor.
1892 Central Library built in Spa Road.
Tower Bridge under construction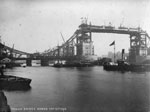 1894 Tower Bridge opened.
---
Edwardian Bermondsey
1908 Bartholomew's Atlas Of London & Suburbs
1915 Spa Road Station closed.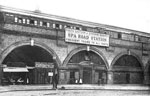 ---
Pre-War Bermondsey

1921 New Southwark Bridge designed by Sir Ernest George.
1927 Photo of Star Cinema in Abbey Road(closed during WW2)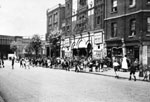 1928 St Olave¹s Church demolished.
1928 Super Cinema opened at 115 Tower Bridge Road
1920s Film of Tower Bridge market
(Manze Pie & Mash at 1:57 is still trading)

---
WW2 Bermondsey
1940-41 Many local people killed by German bombing raids.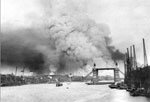 1944-5 Flying bomb attack caused extensive damage and loss of life

---
Post War Bermondsey
1946 Super Cinema (115 Tower Bridge Road) became Troc-ette cinema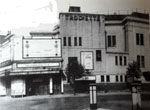 1950 Caledonian Market moved to Bermondsey.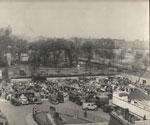 1956 Tommy Steele from Bermondsey was the first British rockers to top the UK charts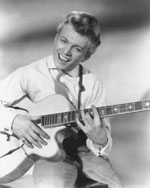 1956 Troc-ette cinema (115 Tower Bridge Road) closed.
1963 Star Cinema building in Abbey Street demolished
1965 Borough of Southwark was formed by amalgamation of boroughs of Bermondsey, Camberwell and Southwark.
1968 St Olave's School moved to Orpington.
1971 HMS Belfast, largest of the WW2 cruisers, moored by Tooley Street.
1975-78 Butlers Wharf used for arts events
1983 New Concordia Wharf Victorian warehouses converted the into apartments.
1987 Butlers Wharf warehouse converted into residential apartments
2002 London City Hall (by Norman Foster) opened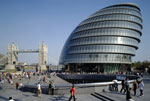 2008 Bermondsey Square developed with a hotel, shops and a 52 seat cinema called Shortwave
---
Booklist
:
The History and Antiquities of the Parish of Bermondsey - GW Phillips (1840)
Bermondsey - ET Clarke (1901)
Bermondsey Story - F. Brockway (1949)
Old Bankside - G. Golden (1951)
Thames Crossings - G Phillips (1981).
The Story of Bermondsey - Mary Boast (1978 London Borough of Southwark)