The definitive guide to independent fishmongers in London.
Click on the following and search by post code:
East London
North London
North West London
South East London
South West London
West London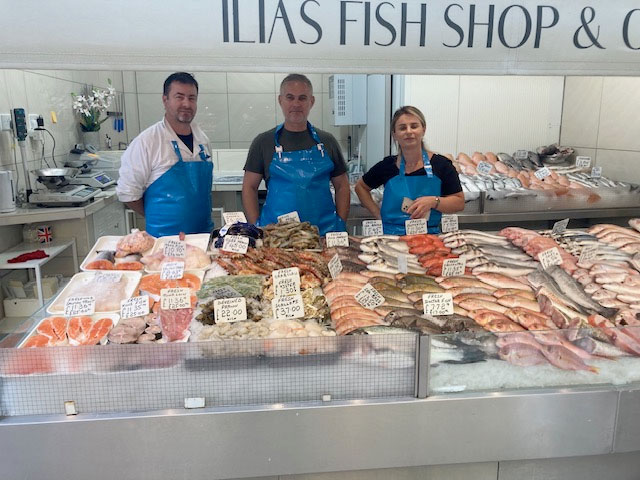 Ilia's of Brixton Village is 10 years old this year. It opened on the site of Dagons (1953-2013) so there has been a fishmonger on the site for 70 years now.
---
---
East London
Bow & Old Ford (E3)
H Forman (est. 1905.), Stour Road, Fish Island, E3 2NT
Smoked salmon and other cured fish. Located by the Olympic Park.
Hackney (E8)
Fin and Flounder (est. 2009), 71 Broadway Market, E8 4PH map
Brendon (ex-LS Mash of Brixton) took over in 2015. Latest.
Leytonstone (E11)
Five Star (est. 2017), 684 High Rd Leytonstone, E11 3AA map
Profile
Poplar (E14)
Billingsgate (relocated 1982), Trafalgar Way, E14 5ST map
Open to the public from 04:00-08:00.
best to order in bulk with friends when visiting
) be sure to wear waterproof shoes!)
or ask Marky Market to personal shop for you.
South Hackney (E9)
Jonathan Norris (est. 2009), 207 Victoria Park Road, E9 7JN map
Branch: Tufnell Park
Walthamstow (E17)
Davies, 494 Hoe Street, E17 9AH map
Sea Catch Fish, 120 High Street, E17 7JY map
Wanstead (E11)
Wanstead Fish (est. 2014), 119B High Street, E11 2RL map
Profile.
---
---
North London
Cockfosters (EN4)
Le Poisson, 7 Station Parade, EN4 0DL map
Established fishmongers now owned by Garett & Shelly. Local delivery.
Crouch End (N8)
Walter Purkis & Sons (est. 1973), 17 The Broadway, N8 8DU map
Purkis' smokery is over 100 years old Film

East Finchley (N2)
A. Scott & Sons, 94 High Road, N2 9EB map
Edmonton (N18)
Ocean Fisheries, 135 Fires Street, N18 2XF map
Enfield (EN2)
F Berndes, 55 Church Street, EN2 6AN map
Highbury (N1)
Bourne's (est. 2017), 13 Highbury Park, N1 1QJ map
Profile Ex-Meek & Wild. Fishmonger and Seafood Bar.
Prawn on the Lawn (est 2013), 292-294 St. Paul's Road, N1 2LH map
Profile. Fishmonger and Seafood Bar. Relocated in 2017. Also in Padstow.
Highgate (N6)
Bourne's, Unit 4 Swain's Lane, N6 6AG map
Fishmonger and Seafood Bar.
Holloway (N7)
Ocean Wave, 60 Seven Sisters Road, N7 6AA map

Islington (N1)
Moxon's (est. 2014), 110 Islington High Street, N1 8EG map
Profile Fresh fish, shellfish, smoked fish (their own) and store cupboard goods.
Ocean Catch, 69 Chapel Market, N1 9ER map
Branch: Fulham
Steve Hatt (est. 1895), 88-90 Essex Road, N1 8LU map
ES profile. Local delivery service.
Muswell Hill (N10)
Walter Purkis & Sons (est. 1973), 52 Muswell Hill Broadway, N10 3RT map
Palmers Green (N13)
Green Lane Fisheries, 24 Green Lanes, N13 6HT map
Ponders End (N9)
Fresh Fishmonger, 588A Hertford Road, N9 8AH map
Seven Sisters (N15)
Taam Hayam, 10 High Road, N15 6LS map
Kosher fish.
Stoke Newington (N16)
Jaines, 177 Stoke Newington Street, N16 0UL map
Run by Louis whose father has a fish business in Grimsby. Latest.
Tottenham (N17)
Thompson's Seafood (est. 1972), Unit 2 Holcombe Market, 1 Holcombe Road, N17 9AA map
---
---
North West London
Edgware (HA8)
Nat Jacobs, 7 The Promenade, HA8 7JZ map
Traditional Kosher fishmongers.
Golders Green (NW11)
JM Corney, Hallswelle Parade, 16 Finchley Road, NW11 0DL map
Sam Stoller, 28 Temple Fortune Parade, NW11 0Q6 map
Kosher fishmonger.
Hampstead & Belsize Park (NW3)
Bourne's, 31 Belsize Lane, NW3 5AS map
Fishmonger and Seafood Bar.
Hampstead Seafood, 78 Hampstead High Street, NW3 1RE map
Harrow (HA2)
Hodges Fishmongers (est. 1957), 194 Alexandra Avenue, HA2 9BN map
Hendon (NW4)
Leveyuson, 47A Brent Street, NW4 2EA map
Kosher fishmonger.
Kensal Green (NW10)
Brooks, 91 Chamberlayne Road, NW10 3ND map
Meat, fish, bread, cheese, vegetables and more. Latest
Kentish Town (NW5)
Jonathan Norris (est. 2015), 140 Fortress Road, NW5 2HP map
Profile Branch: Hackney
Simply Fine Foods, 258 Kentish Town Road, NW5 2AA map
Profile. Previously Pure Meat Company. Butcher, fishmonger & more.
Mill Hill (NW7)
Elias Fish (est. 2016?), 8 Bittacy Hill, London NW7 1LB map
Primrose Hill (NW1)
La Petite Poissonnerie, 75 Gloucester Avenue, NW1 8LD map
Oyster Seafood Bar & Fishmonger
St John's Wood (NW8)
Browns of St John's Wood (est. 1950), 37-39 Charlbert Street, NW8 6JN map
Coastline Galicia, 69 Abbey Road, NW8 0AE map
St John's Wood Fish Shop, 45 St John's Wood High Street, NW8 7NJ map
---
---
South East London Fishmongers

Beckenham (BR3)
Pearl Fisheries, 161 High Street, BR3 1AE map

Bermondsey (SE1)
The Fish Stall (est. 1986), The Blue, Market Place, Southwark Park Road, SE16 3UQ map
Q&A

Bexleyheath (DA7)
Seafoods, 139 Long Lane, DA7 5AH map
Fish, shellfish & smoked fish.

Blackheath (SE3)
Nearest is Ellis & Jones in Greenwich

Borough (SE1)
Applebee's (est. 1998), 5 Stoney Street, SE1 9AA map
Wild and line caught seafood.

Brockley & Crofton Park (SE4)
Veasey & Sons, Brockley Market, Lewisham Way, SE4 1UT map
Fresh fish from their own boats on the south coast.

Bromley (BR1)
B&J Fisheries (est. 2011), 6 Widmore Road, BR1 1RY map
Film Previously Copes

Camberwell (SE5)
Nearest is Moxon's in East Dulwich

Catford (SE6)
David Oakman & Sons, 28 Muirkirk Road, SE6 1BE map
Profile Butchers selling fish.

Crystal Palace (SE19)
Fishmongers Plaice (est. 2022), 16 Church Road, SE19 2ET
Kevin has many years experience working at Billingsgate Market.

Dulwich Village & West Dulwich (SE21)
Nearest is Moxon's in East Dulwich

East Dulwich (SE21)
Moxon's (est. 2007),149 Lordship Lane, SE22 8HX map
Profile Fresh fish, shellfish, smoked fish (their own) and store cupboard goods.

Forest Hill & Honor Oak (SE21)
Nearest is Billings in Sydenham.

Greenwich (SE10)
Ellis + Jones (est. 2019), 26 Royal Hill, SE10 8RT map
Responsibly sourced wet fish & shellfish daily from south and south west coast.

Keston (BR2)
Fish Stall, Holwood Farm, Yellow Barn, New Road Hill, BR2 6AB map

Peckham & Nunhead (SE15)
F.C. Soper (est. 1897), 141 Evelina Road, SE15 8RT map
Profile

Penge (SE20)
Nearest is Billings in Sydenham.

Rotherhithe & Surrey Quays (SE16)
Nearest is The Fish Stall in Bermondsey.

Sydenham (SE26)

Billings (est. 2011), 45 Sydenham Road, SE26 5EX map
---
---
South West London Fishmongers


Balham (SW12)
Nearest fishmonger is Moxon's of Clapham.
Barnes (SW13)
Barnes Fish Shop (est. 2006), 18 High Street, SW13 9LW map
Profile Fresh fish from Cornwall.
Battersea (SW11)
The Fish Stall, Northcote Road, SW11 6QN map
Fresh fish and shell fish. Orders taken with a days notice - contact Toby.
Brixton (SW9)
Ilia's, 16 Brixton Village SW9 8PR map
Previously Dagons (est. 1952).
Jeffries, 5 Market Row, SW9 8LB map
Long established fish stall.
Chelsea
The Chelsea Fishmonger (est. 1995), 10 Cale Street, SW3 3QU map
Q&A Previously The Chelsea Fishery. Run by Rex. Latest
The Sea The Sea
The Sea The Sea (est. 2019), 174 Pavilion Road, SW3 0AW map NEW
Profile Fishmonger and seafood bar by Alex Hunter. Latest
Clapham (SW4)
Moxon's (est. 2002), Westbury Parade, Shop E, Nightingale Lane, SW4 9AE map
Profile Fresh fish, shellfish, smoked fish (their own) and store cupboard goods.
Croydon (CR0)
Croydon Quality Fish (est. 2018), 25 Church Road, CR0 1RH map
The Prawnbrokers (est. 1998), 203 Lower Addiscombe Road, CR0 6RA map
Fresh fish and seafood.
Fulham (SW6)
Ocean Catch, Market, 407 North End Road, SW6 1NS map
Branch: Islington.
Kingston
Websters (1866), Fish Stall, Market Place, KT1 1JH map
Jarvis (est. 1943), 56 Coombe Road, KT2 7AF map
Wide selection of fish and shellfish plus their own smoked fish.
Pimlico (SW1)
Jonathan Morris (est. 2003), Tatchbrook Street Market stall, SW1V 2JS map
Profile Fresh fish, shellfish, Moxon's smoked fish. Shop: NW5
South Kensington (SW7)
Moxon's (est. 2012), 17 Bute Street, SW7 3EY map
Profile Fresh fish, shellfish, smoked fish (their own) and store cupboard goods.
Streatham (SW16)
Fish Tale (est. 2009), 9 Leigham Court Road, SW16 2ND map
Line caught and sustainable fish from Scotland, Cornwall and around the world. Deli produce.
Wimbledon (SE19)
North Sea Seafood, Wimbledon Farmers Market (Sat), Primary School, Havana Road, SW19 8EJ map
Brown shrimps, crabs, lobster, smoked mackerel and more. They buy from day boats on the Norfolk coast.
---
---
West London Fishmongers

Acton (W3)
Acton's last traditional fishmonger closed in 2012.
Chiswick (W4)
Covent Garden Fishmongers (est. 1982), 37 Turnham Green Terrace, W4 1RG map
Originally a stall in Covent Garden hence the name.
Covent Garden (WC2)
FishWorks (opened 2019), 2-4 Catherine Street WC2B 5JY map
Fishmonger & restaurant. Branches: Marleybone & Mayfair
Ealing (W5)
Mo's Fisheries, 2 The Bridge, Uxbridge Road, W5 3LB map
Hammersmith (W6)
The Fishmongers Kitchen (est. 2010), 119 Shepherds Bush Road, W6 7LP map
Previously Cape Clear Fishmongers.
Kensington (W8)
The Fish Shop (est. 2001), 201 Kensington Church Street, W8 7LX
Closed in 2019.
Marleybone (W1)
Southbank, Selfridges Foodhall, 400 Oxford Street, W1A 1AB map
FishWorks (opened 2004), 89 Marylebone High Street, W1U 4QW map
Fishmonger & restaurant. Branches: Covent Garden & Mayfair
La Petite Poissonnerie, 19 New Quebec Street, W1H 7RY map
Oyster Seafood Bar & Fishmonger
Mayfair (W1)
FishWorks, 7-9 Swallow Street, W1B 4DE map
Fishmonger & restaurant. Branches: Covent Garden & Marleybone
North Kensington (W10)
Golborne Fisheries, 75-77 Golborne Road, W10 5NP map
Profile Owned by B&J Fisheries.

Notting Hill & Holland Park (W11)
Notting Hill Fish & Meat (est. 2019), 287-289, Westbourne Grove, W11 2QA map
Profile. Founder Chris D'Sylva.
Shepherds Bush (W12)
Ocean Collection (est. 2020), 15 Uxbridge Road, W12 8LH map
Twickenham (TW1)
Sandys (est. 1978), 56 King Street, TW1 3SH map
Fish, meat, cheese & wine.
Advertise