The definitive guide to independent butchers in London. Click on the following and search by post code:

East London
North London
North West London
South East London
South West London
West London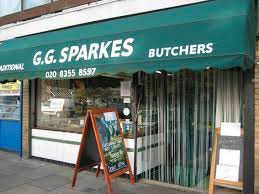 Recently GG Sparkescelebrated its 70th birthday. Established in 1952 GG Sparkes went organic in 1989 (it has a Soil Association accreditation), one of the first Uk butchers to do so. It is run by Guy Sparkes and his step daughter Alex McMillan. Film
---
---
Bethnal Green (E2)
The Butcher's Shop (est. 1983), 374 Bethnal Green Road, E2 OAH Profile
Peter Sergeant passed away in 2020.
Mr Bulls, 96 Roman Road, E2 0PG
Local delivery service.
Peckover (est. 2012), 195 Roman Road, E2 0QY Profile
Previously Brian Roberts Butcher. Traditional & free range meats.
Canning Town (E16)
A.T Legg, 29 Freemasons Road, E16 3AR
Chingford (E4)
Shaws Butchers (est. 1986), 29 Station Road, E4 7BJ
Local delivery service.
City (EC4)
Porterford Butchers (est. 1983), 72 Watling Street, EC4 9EB
Clerkenwell (EC1)
Tom Hixson of Smithfield (est. 1963), 221 Central Markets, EC1A 9LH
Keevil & Keevil (est. 1794), 218 Central Market, EC1A 9LH
Turner & George (est. 2014), 399 St. John Street, EC1V 4LD Profile
Run by James George & Richard Turner (Hawksmoor). Online delivery service.
Hackney (E8)
Brazilian Centre, 223 Mare Street, E8 2QE
Hill & Szrok (est. 2014), 60 Broadway Market, E8 4QJ Feature
Butchers & restaurant. Master butcher is Tom Richardson-Hill (ex-Allens of Mayfair).
Plaistow (E13)
T&J Whenlock (est. 1882), 380 Barking Road, E13 8HL map
Profile. Member of National Craft Butchers Association.
South Hackney (E9)
Ginger Pig (opened 2008), 99 Lauriston Road, E9 7HJ Story
W Wells Butchers (est. 1931), 211 Well Street, E9 6QU map
Walthamstow (E17)
H Parsons, 147 High Street, E17 7BX
Local delivery service.
Wanstead (E11)
Ginger Pig (opened 2016), 3 Clock House Parade, High Street Wanstead, E11 2AG Story
Previously AG Dennis (closed in Jan 2016)
Wapping (E1)
Hussey's, 64 Wapping Lane, E1 2RL Steak Society
In Wapping for over 50 years.
West Ham (E15)
G&R Butchers, 57 Stephens Road, E15 3JJ
Woodford (E18)
WD Chapman (est. 1890), 415 High Road, Woodford Green, IG8 0XG
Story. Richard Chapman retired in 2015. Shop to let at present.
---
---
Barnet (EN5)
Harrys, 119 High Street EN5 5UZ map
Moore & Sons, Greenhill Parade, 25 Great North Road, EN5 1EU map
Cockfosters (EN4)
Kikis, 1 Heddon Court Avenue, Cockfosters Road, EN4 0DB map
Crouch End (N8)
Freemans, 9 Topsfield Parade, N8 8PR map
Morleys, 23 Broadway Parade, N8 9DE map
There has been a butcher shop here since Victorian times.
East Finchley (N2)
Grahams (est. 1972), 134-136 East End Road, N2 0RZ map
A butchers shop since 1939. Free range & organic. Local home delivery.
Enfield (EN1)
SJ Simpson, 200 Baker Street, EN1 3JY map
Profile
Haringay (N4)
Baldwins, 469 Green Lanes, N4 1AJ map
Highbury (N5)
Godfreys (est. 1905), 7 Highbury Park, N5 1QJ map
Q Guild member
Highbury Butchers, 183 Blackstock Road, N5 2LL map

Highgate (N6)
Highgate Butchers, 76 Highgate High Street, N6 5HX map

Holloway (N7)
Cramers Butchers, 392 York Way, N7 9LW map
Islington (N1)
James Elliott (est.1950), 96 Essex Road, N1 8LU map
Profile
Lower Edmonton (N9)
A.P.S Meats (est. 1969) 8 Westerham Avenue, N9 9BU map
Local delivery service
R Morris, 434 Hertford Road, N9 8AA map
Muswell Hill (N10)
The Hampstead Butcher, 90 Muswell Hill Broadway, N10 3RU map
Midhurst Butchers, 2 Midhurst Parade, N10 3EJ map
Palmers Green (N13)
Zourtous, 113 Green Lanes, N13 4SP
Seven Sisters (N15)
Graham's, 30 West Green Road, N15 5NP map
Southgate (N14)
F Norman (est. 1936), 199 Bramley Road, N14 4XA map
Stoke Newington (N16)
Cookery (est. 1987), 113 Stoke Newington High Street, N16 0PH map
Meat N16 (est. 2011) 104 Stoke Newington Church Street, N16 0LA map
British meat, poultry, game, cheese, deli and wines. Branch: NW5

Tottenham (N17)
Dewhurst of Tottenham, 522 High Road, N17 9SX map
Old Dewhurst chain.
Upper Edmonton (N18)
Eddie's Meat Market, 121 Fore St, N18 2XF map
Whetstone (N20)
Seabrook Butchers, 91 Russell Lane, N20 0BA map
Winchmore Hill (N21)
M Peatchey (est. 1984), 25 The Grangeway, N21 2ET map
Wades Hill Butchery, 10 Wades Hill, N21 1BG map
Wood Green (N22)
Mr Butcher, 6 Commerce Road, N22 8ED map

---
---
Belzise Park (NW1)
Barretts, 40 Englands Lane,, NW3 4UE map
Cricklewood (NW2)
Bifulco, 182 Cricklewood Lane, NW2 2DX map
Film
Hampstead (NW3)
The Hampstead Butcher, 56 Rosslyn Hill, NW3 1ND map
Branches: Muswell Hill + West Hampstead
Kentish Town (NW5)
Jackson Brothers, 69 Chetwynd Road, NW5 1DA map
Simply Fine Foods, 258 Kentish Town Road, NW5 2AA map
Profile. Previously Pure Meat Company. Butcher, fishmonger & more.
Meat NW5 (est. 2013), 147 Fortess Road, NW5 2HR map
Branch: Stoke Newington

Kensal Green (NW10)
Brooks, 91 Chamberlayne Road, NW10 3ND map
Meat, fish, bread, cheese, vegetables and more. Latest
John Line (est.1962), 1038 Harrow Road, NW10 5NN map
Kilburn (NW6)
Harte's Irish Meat Market, 209 Kilburn High Road, NW6 7JG map
Profile Alan Harte owner. Branch: Harlesden
Mill Hill (NW7)
Highland Foods, 14 Bittacy Hill, NW7 1LB map
Organic.
Queens Park (NW6)
Provenance, 93 Salusbury Road, NW6 6MH map
St John's Wood (NW8)
Kent & Sons Butchers (est. 1919), 59 St John's Wood High Street, NW8 7NL map
Q Guild member
West Hampstead (NW6)
The Hampstead Butcher, 244 West End Lane, NW6 1LG map
Willesden & Harlesden (NW10)
Harte's Irish Meat Market, 2 Park Parade, NW10 4JH map
Branch: Kilburn
O'Farrells Traditional Family Butchers, 80 High Road, NW10 2PR map


---
---
Beckenham (BR3)
John Q, 521 Upper Elmers End Road, BR3 3DE
Bermondsey (SE1)
Bell & Sons (est. 2014), 13A Market Place, The Blue, SE16 3UQ
The Butchery (est. 2011), Arch 13, Spa Terminus, Dockley Road, SE16 3SF map
Whole carcass butchery Film. Shops in Forest Hill & Spitalfields. Nathan & Ruth interview.
O'Sheas, (est. 1789), Arch 14 Lucey Way, SE16 4ET
From Darragh & Fiona's farm in Perthshire.
Bexleyheath
Pickett's, 53a Pickford Lane, DA7 4QU
A butchers now for over 60 years
Blackheath & West Bourne Park (SE3)
John Charles (est. 1992), 12 Blackheath Village, SE3 9LE
Originally in Rotherhithe.
GG Sparkes(est. 1952),24 Old Dover Road, SE3 7BT
Traditional farmed meats specialising in rare-breeds, free-range & organic meat.
Borough (SE1)
Ginger Pig (est. 1998), Borough Market, SE1 1TL
Sourced from their three Yorkshire farms and chosen suppliers.
Northfield Farm (est. 1997), 5 Bedale Street, SE1 9AH
Leicestershire farm also operating as as an informal co-operative of 50 or so UK suppliers.
Wyndham House, Borough Market, Bedale Street, SE1 1TL
Branches: Chelsea & Chiswick.
Brockley & Crofton Park (SE4)
Proud Sow (est. 2014), 1 Ewhurst Road, SE4 1AG
Previously Peter James Butchers.
Bromley (BR1/BR2)
Andrews of Bromley (est. 1948), 81 Burnt Ash Lane, BR1 5AA 70 Years
R. Andrews Quality Meats (est. 1986), 457 Bromley Road, BR1 4PH
Carnivore (est. 2018), 123 Southborough Lane, BR2 8AP
Lando (est. 2012), 429 Bromley Road, BR1 4PH Film
Larder (est. 2017), Sundridge Parade, 2 Minster Road, BR1 4DT
MJ Painter, 225 Southborough Lane, BR2 8AT
Catford (SE6)
David Oakman & Sons, 28 Muirkirk Road, SE6 1BE
The shop has been a butchers for over 120 years. SE6 Kitchen feature
Chislehurst (BR7)
Burlington Food Hall, 62-64 High Street, BR7 5AQ map
Crystal Palace (SE19)
Holly Fam of Sussex, Haynes Lane Saturday Market, SE19 3AP map
Deptford & St John (SE8)
Wellbeloved, (est.1829) 31 Tanner's Hill, SE8 4PJ
Off Deptford Broadway. Run by Bill.
Dulwich Village (SE21)
Proud Sow (opened 2018), 86 Dulwich Village, SE21 7AQ
East Dulwich (SE21)
William Rose (est. 2005), 126 Lordship Lane, SE22 8HD
Free range meat.
Elephant & Castle
Benny the Butcher (est. 2021) @ MMy, Sayer Street, SE17 1GA
Ex-Ginger Pig butchers selling quality British & Italian meat.
Eltham (SE9)
Micks Family Butchers, 11 Cranley Parade, SE9 4DZ
New Eltham Butchers (est. 1999), 350 Footscray Road, SE9 2EB
Forest Hill & Honor Oak (SE21)
The Butchery (est. 2013), 49 London Road, SE23 3TY Nathan & Ruth interview
Free range & rare breed meat. Whole carcass butchery Film.
K & J Libretto & Daughters (est. 198*), 112 Wood Vale, SE23 3EB
Greenwich (SE10)
Drings (est. 1964), 22 Royal Hill, SE10 3EB Retirement
Free range & rare breed meat
Herne Hill (SE24)
Jones the Butcher (est. 1962), 1 Dulwich Road, SE24 0NT
Keston (BR2)
Larder, New Road Hill, Leaves Green, BR2 6AB map
Lewisham (SE13)
Meat John (est. 2019), 107 Ladywell Road, SE13 7JA Profile
Peckham & Nunhead (SE15)
W Bunting (est. 1906), 13 Peckham Park Road, SE15 6TR
Beef and lamb hung for 28 days. Located off the Old Kent Road.
Dennis' Butchers, 135 Peckham High Street, SE15 5SL Story
Flock & Herd (est. 2012), 155 Bellenden Road, SE15 4DH
Free range & rare breed meat.
HA Smith (est. 1995), 111-113 Evelina Road, SE15 3HB
Penge (SE20)
Murray Brothers, 146 High Street, SE20 7EU
Rotherhithe & Surrey Quays (SE16)
None. Nearest is Bell & Son at The Blue.
Southbank & Waterloo (SE1)
Greensmiths (est. 2008), 27 Lower Marsh, SE1 7RG map Chris Smith profile.
Cafe & supermarket including Buckingham Artisan Butchers of Hampshire (est. 2017).
Sydenham (SE26)
Billings (est. 2009), 45 Sydenham Road, SE26 5EX

Walworth (SE17)
Benny the Butcher (est. 2021) @ MMy, Walworth Square, SE17 1GA
Ex-Ginger Pig butchers selling quality British & Italian meat.
Welling (DA16)
Meat in Place, 93 Welling High Street, DA16 1TY
West Dulwich (SE21)
Scotch Meats (est. 1976), 97-99 Rosendale Road, SE21 8EZ
West Wickham (BR4)
Larder, 86 High Street, BR4 0NF map
---
---
Balham (SW12)
Chadwicks (est. 1999), 109 Balham High Road, SW12 9AP
Barnes (SW13)
Ginger Pig (opened 2014), 61 Church Road, SW13 9HH Story
Battersea (SW11)
Family Butchers, 164 Battersea Bridge Road, SW11 3AW
Hennesseys (est. 1970s), 80 Northcote Road, SW11 6QN
Brixton (SW9)
Dombey Meats, (est. 1983), 19 Market Row, SW9 8LB
Jones the Butcher (est. 1962), 1 Dulwich Road, SE24 0NT
Chelsea (SW3)
Jago's of Chelsea (est. 1972), 9 Elystan Street, SW3 3NT
Organic chicken and eggs.
Provenance Village Butchers, 247 Pavilion Road, SW1X 0BP map
Clapham (SW4)
Ginger Pig (opened 2013), 55 Abbeville Road, SW4 9JW Story
M Moens & Sons (est. 1971), 24 The Pavement, SW4 0JA Feature
Moens sell a wide variety of produce, from Spanish black hoof Jamon Iberico to Kobe beef.
Croydon
Bashford & Co (est. 2018), 35 Elmsfield Way, CR2 OEJ map
Vic Gibson Butchers (est 1978), 301 Lower Addiscombe Road, CR0 6RF Profile
East Molsey (KT8)
Bentleys of Surrey, 155 Walton Road, KT8 0DU
A butchers shop for over 100 years.
Pete J Dale, 27 Bridge Road, KT8 9EU map
Fulham (SW6)
Randalls, 113 Wandsworth Bridge Road, SW6 2TE Profile
Parsons Nose (est. 2007),753 Fulham Road, SW6 5UU
Dickenson's Quality Meats (est. 1971), 365 North End Road, SW6 1NW
Kew (TW9)
Pethers Butchers, 16 Station Parade, TW9 3PZ
Free range meat and poultry plus pies, cheeses, pickles and more.
Kingston (KT2)
Bevans (est. 1929), 136 Richmond Road, KT2 5EZ (Owner: Robin Bevan)
Branches in Esher, Bagshot & Effingham. Best Butcher in Britain 2019
New Malden (KT3)
The Real Butchers (est. 1983), 135 Kingston Road, KT3 3NX
Notting Hill (SW11)
Provenance Village Butcher, 33 Kensington Park Rd, W11 2EU Profile
Focusing on animal welfare, sustainable farming and meat reared free-range and grass-fed for taste
Pimlico (SW1)
Freeman Butchers, 117 Lupus Street, SW1V 3EN
Putney (SW15)
Parsons Nose (est. 2008), 88 Lower Richmond Road, SW15 1LL
Organic free range and rare breed meats. Previously Buckleys butchers.
Richmond
None. Nearest in Sheen.
Sheen (SW14)
R T Chubb & Son, 350 Upper Richmond Road West, SW14 7JT
The business is nearly 100 years old.
T. Swatland, 393 Upper Richmond Road, SW14 7JT
Shirley (CR0)
South Kensington (SW5)
Parsons Nose (est. 2021),165 Old Brompton Road, SW5 0LJ
Streatham (SW16)
Surbiton
CD Jennings, 146 Ewell Road, KT6 6HE
A butchers shop for over 100 years.
Tooting (SW17)
Coppin Bros (est. 1860)276 Mitcham Road, SW17 9NT
The previous owner wrote a very useful guide to buying meat e-book.
Wandsworth (SW18)
Cleavers (est. 2011), 362 Old York Road, SW18 1SP
Franklands Family Butchers, 173 Merton Road, SW18 5EF
West Brompton (SW10)
Wyndham Butchers (est. 2007), 339 Fulham Road, SW10 9TW
Wimbledon (SW19)
Robert & Edwards Butchers (est. 1967) 19 Leopold Road, SW19 7BB
Branch: Reigate.
---
---
Brentford (TW8)
Hammonds, 8 Kew Bridge Road, TW8 0FJ map
Refurbishment
Chiswick (W4)
Macken Brothers (est. 1960), 44 Turnham Green Terrace, W4 1QP map
Wyndham House, 229A Chiswick High Road, W4 2DW map
Local delivery service
Ealing (W5)
Ealing Butchers & Charcutier, Station Parade, Uxbridge Road, W5 3LD map
Local delivery service.
Hook and Cleaver (est. 2011), 133 Pitshanger Lane, W5 1RH map
Hook and Cleaver (est. 2013), 140 South Ealing Road, London, W5 4QJ map
Hammersmith (W6)
Stenton Family Butcher (est. 1960), 55 Aldensley Road, W6 0DH map
Hanwell (W7)
GH Baxter, 330 Greenford Avenue, W7 3DA map
Holborn (WC1)
McKanna Meats (Theobald's), 21 Theobald's Road, WC1X 8SL map
Kensington (W8)
Miller of Kensington, 14 Stratford Road, W8 6QD map
Maida Vale (W9)
Provenance, 5 Clifton Road, W9 1SZ map
Marleybone (W1)
Ginger Pig (opened 2006?), 8-10 Moxon Street, W1U 4EW map
Story
Eversfield Organic (opened 2020) @ Selfridges Food Hall, 400 Oxford Street, W1A 1AB map
North Kensington (W10)
Alan Foster, 2A North Pole Road, W10 6QL map
Q Guild member.

Notting Hill & Holland Park (W11)
C. Lidgate (est. 1870), 110 Holland Park Avenue, W11 6QL map
Organic beef, lamb, pork and chicken
Notting Hill Fish & Meat (est. 2019), 287-289, Westbourne Grove, W11 2QA map
Profile. Founder Chris D'Sylva.
Supermarket of Dreams, (est. 2020), 110 Holland Park Avenue, W11 4UE map
Story. Fish, meat, cheese, bread and more
Shepherds Bush (W12)
Ginger Pig (opened 2011), 137 Askew Road, W12 9AU map
Story
Irish Meat Market, 72 Goldhawk Road, W12 8HA map

Shepperton (TW17)
James of Shepperton, 197 Laleham Road, TW17 9AU map
Q Guild member
Teddington (TW11)
Teddington Butcher, 152 Waldegrave Road, TW11 8NA map
Twickenham (TW1)
Armstrong, 111 St. Margarets Road, TW1 2LH map
Brown's Artisan Butchers, 54 King Street, TW1 3SH map
Sandys (est. 1978), 56 King Street, TW1 3SH map
Fish, meat, cheese & wine.

West Ealing (W13)
For nearest traditional butchers see W5

West Kensington (W14)
HG Walter (est. 1972), 51 Palliser Road, W14 9EB map
Q Guild member.
Advertise