Norman Folkestone
1095 Folkestone Castle built on Castle Hill.
1138 Folkestone Priory built with a church dedicated to St Mary and St Eanswythe.
1216 St Mary and St Eanswythe destroyed in a fire
---
Medieval Folkestone
1220 St Mary and St Eanswythe destroyed
1236 St Mary and St Eanswythe extended
---
Georgian Folkestone
1788 Sea bathing machines introduced.
1794 Shorncliffe Army Camp & Shorncliffe Redoubt fort established.
1806 Martello tower built at Folkestone during Napoleonic Wars.
Folkestone Theatre opened at 1-3 Grace Hill.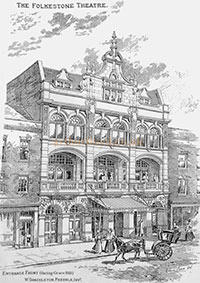 1809 Harbour Arm built by Thomas Telford (1757-1834).
---
Regency Folkestone
1829 Folkestone Harbour by JM Turner (1775-1851).


---
Early Victorian Folkestone
1842 Foord railway viaduct built by William Cubitt (1785-1861).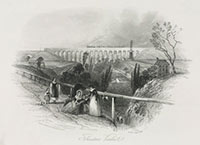 1843 Decimus Burton (1800 –1881) employed by the Earl of Radnor to create the Leas promenade plus housing on West Cliff.
Folkestone (East) opened.
Steamboat ferry service to Boulogne started from Folkestone Harbour.
(Royal) Pavilion Hotel opened by the harbour.
1844 Folkestone Harbour by J Harwood.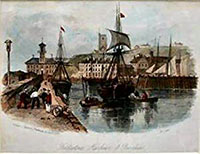 Horn Pier built by George Turnbull (1809-1889). He was William Cubitt's engineer.
1846 Royal Victoria Hospital opened.
1849 Folkestone Harbour Station opened.
1856 Folkestone Harbour Station re-sited.
Folkestone Harbour Station Customs House opened.
1863 Folkestone West opened (originally Shorncliffe Camp).
---
Late Victorian Folkestone
1884 Folkestone Central opened (originally named Cheriton Arch then Radnor Park).
1885 The Leas Lift funicular railway opened. It used water and gravity and was controlled from a small cabin at the top of the cliff.
1886 Pleasure Gardens Theatre opened.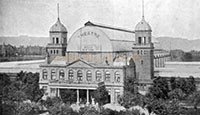 Folkestone Warren Halt Station opened.
1888 Victoria Pier opened.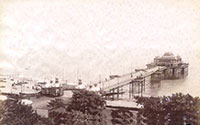 1895 Folkestone Museum opened on Grace Hill.
1896 Hotel Metropole opened on The Leas.
1899 Queen Victoria made her last overseas visit via Folkestone.