The name Margate may have meant a pool in the cliffside. It developed from a small fishing village.

---
Roman Margate
Roman Villa discovered in Tivoli Park Avenue in 1920

---
Norman Margate
1050 St John's Church built (at end of High Street)

---
Mediaeval Margate

1229 Margate under jurisdiction of Cinque Ports as a limb.
1380 Dent-De-Lion gatehouse. Was a part of a medieval manor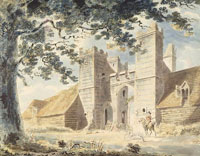 ---
Tudor Margate
1525 King Street house built.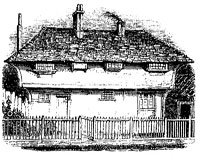 ---
Stuart Margate
1666 Dutch & English fleets fought for four days off North Foreland

---
Georgian Margate
Margate still a small fishing village (Edward Hasted called it a "poor fishing town")
1709 Drapers Hospital founded.
1753 Modification of the bathing machine introduced by Benjamin Beale a local Quaker who was influenced by Dr Richard "Sea-Water" Russells's Disertation of 1752. Beale invented a canvas hood.
1769 Cecil Square built (first Georgian square in a seaside resort)
1786 JMW Turner attended school in Margate.
1787 Theatre Royal opened opened in Addington Square
1796 Royal Sea Bathing Hospital, founded by Dr Lettsom, opened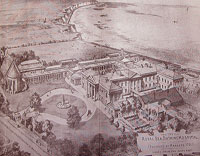 1798 Margate Caves rediscovered
1806 Road built between Margate and Westgate (now Marine Terrace)
1808 Jarvis Landing Place destroyed in a storm


---
Regency Margate
1812 Droit House built for Margate Pier and Harbour Co
1815 Margate harbour built by John Rennie. Known as the Harbour Arm
Steamers now used Margate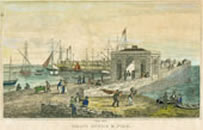 1821 Town Hall rebuilt in Market Place.
1829 Holy Trinity Church (in Gothic style) opened in Trinity Square
Turner travelled by steamship to Margate to stay at the boarding-house of Mrs Sophie Booth
After being widowed she later became his companion until his death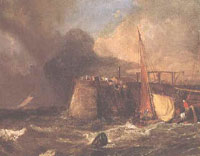 1835 Shell Grotto discovered

---
Early Victorian Margate
1841 Six companies operated steamships to Margate
1845 Congregational Church opened in Union Crescent
1846 Margate Sands railway station opened
1850 The steam-ship Royal Adelaide sank near Margate with loss of 250 people
1855 Margate Jetty (pier) built by Eugenius Birch.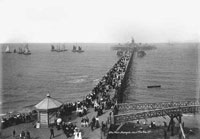 1857 Charter granted for Margate to become a borough.
Margate surfboat (lifeboat) "Friend To All Nations" established.

---
Mid Victorian Margate
1863 London Chatham and Dover Railway linked to Margate West (current station).
1877 Margate Jetty damaged in storm.


---
Late Victorian Margate
1880 New Marine Drive opened
First amusement park opened.
1887 Clock tower built to celebrate Queen Victoria's Golden Jubilee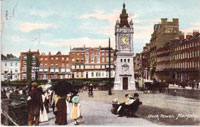 Switchback Railway opened (destroyed in 1897 storm)
1895 Margate FC founded
1897 Thanet Golf Club opened.
Storm claimed lives of nine Margate lifeboatmen
1899 Bronze statue of lifeboatman erected to commemorate 1897 disaster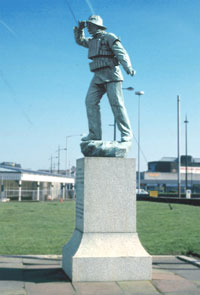 ---
Edwardian Margate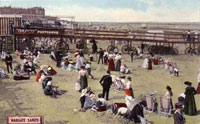 1908 Winter Gardens opened in Cliftonville.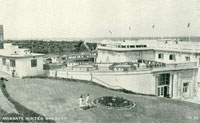 1912 Lounge Picture salon opened in Cliftonville with 550 seats. Became Cameo in 1936 and closed in 1970.

---
WW1 Margate
1915 Cinema de Luxe by Peter Dulvey Stonham opened on 140 High Street with 422 seats. In 1930 became Plaza Cinema.
1917 Germans torpedo boats attacked shipping in Margate

---
Prewar Margate
1920 Dreamland opened. Influenced by a Coney Island theme park in the US.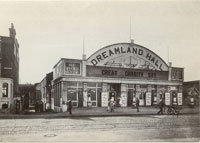 Film 1
Film 2

Margate surfboat "Friend To All Nations" motorised
TS Eliot wrote part of The Wasteland whilst on convalescence in Cliftonville
1923 Variety Cinema opened in Dreamland
1927 Cliftonville Swimming Pool (Margate Lido ) opened.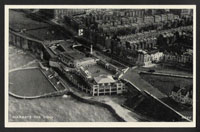 1930s Development of the Palm Bay estate in East Cliftonville
1930 Cinema de Luxe replaced by Plaza Cinema. Closed in 1984.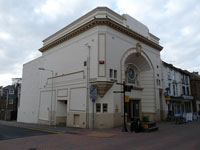 1930 Margate and District New General Hospital, opened on St Peters Road
1932 Library moved to Victoria Road
1934 Astoria opened on Northdown Road Cliftonville by EA Stone with 1,035 seats.
Regal opened in Cecil Square.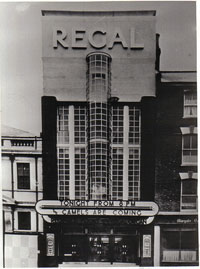 1935 Dreamland Cinema complex opened.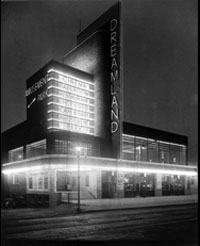 1936 Snapshot guide to Margate published more info

---
Second World War
1940 London to Margate steamers helped evacuate allied troops from Dunkirk.
Photo below shows Belgian troops at Margate station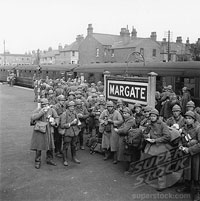 1940 Astoria suffered bomb damage and was later demolished. Now a petrol station on the site.
1941 Regal suffered bomb damage and closed.



---
Postwar Margate
1947 Robert Calvert (later of Hawkwind fame) moved to Margate with his family (1988 died in Ramsgate)
1952 C16 house restored in King Street
1953 Lindsay Anderson made film of Dreamland - "O Dreamland"
Nik Turner (later of Hawkwind fame) moved to Margate with his family.
1963 Arlington House built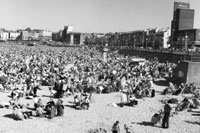 1963 'Oliver Twist And The Lower Third' group formed in Margate. They moved to London and linkled up with David Bowie joined in 1965 as David Bowie & Lower Third. From June-Aug 1965 group played residency at Cliftonville Hotel, Margate
1964 Mods & Rockers fought on Margate Sands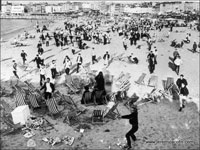 1967 Last steamer service to Margate
1968 Dreamland sold by original owners
1970 In the 60s Margate had 2 million visitors a year but in the 70s that thee was a marked decline in visitors due to cheap air travel. Promotional film with Michael Aspel
1978 Margate Jetty destroyed in a storm
1980 Big Wheel opened in Dreamland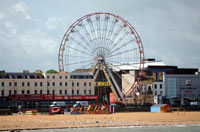 1996 Royal Sea Bathing Hospital closed
2002 Dreamland Scenic Railway listed as Grade II
2003 Dreamland closed
Times article

2005 Dreamland bought by Margate Council
2007 Dreamland cinemas closed
2008 Part of Dreamland Scenic Railway destroyed in an arson attack.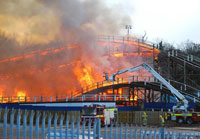 2009 Margate Handbook published
Gentrification began steadily with new bars and shops added..
Times article
2011 Turner Contemporary gallery opened
2017 Dreamland reopened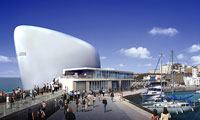 ---
Booklist
Book of Margate - David Scurrell (Barracuda 1982)
Maritime Margate - Ed Robert B Mathkin (Thanet District Council 1982)
Old Margate - Michael David Mirams (Meresborough Books 1984)
Margate 1736-1986: A Resort History - F Stafford et al (1986)
Margate in Old Picture Postcards - Alan Kay (1987)
History of Royal Sea Bathing Hospital (1791-1991) - FG St Clair (Meresborough Books 1991)
Margate: Then & Now - Alan Kay & Ian Kay (NPI 1998)
Margate's Seaside Heriage (English Heritage 2007)
Margate (Britain in Old Photographs) (History Press 2009)
Dreamlands Remembered: 90th Anniversary (History Press 2009)