1851 Great Exhibition held in Hyde held in Hyde Park from May to October.
Exhibition housed in glass and iron structure designed by by Sir Joseph Paxton
Six million people visited the Great Exhibition. Became known as the People's Palace








Palace moved to Sydenham Hill
1852 Building purchased by private company to be moved to site of Penge Place, Sydenham Hill.
Benjamin Waterhouse Hawkins appointed to create 33 life-size concrete dinosaur sculptures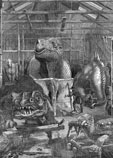 5 Aug: work started on first pillar at Sydenham Hill
1853 15 Aug: 12 workers killed by scaffolding.
31 Dec: Dinner for 20 people held inside Iguanodon sculpture




1854 10 June: Crystal Palace & Gardens opened by Queen Victoria
Crystal Palace railway station (renamed Low Level in 1898) opened
Central transept raised and north & south transepts added.
Central building 1850 ft long with 9,642 tons of iron & 25 acres of glass
Dinosaur sculpture added
Crystal Palace & Gardens painting by George Baxter (1804-1867)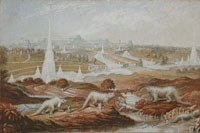 1855 Napoleon III visited
1856 Two towers added (282 ft high)
1857 Handel Festival held in central transept every three years until 1883
1861 National Choral Society (1000 voices) played at the Palace.
Building damaged in a storm.
(circa) A (different) Crystal Palace FC formed from CP groundkeepers. Played in grounds.
"Groundkeepers" were one of 12 founder members of FA in 1863.
1862 Work began on a railway from Peckham to Crystal Palace (High Level)
1864 Atmospheric railway built in tunnel from Low Level to Palace.
1865 High Level station opened at Crystal Palace





8 June: Joseph Paxton died in Sydenham
1866 Fire destroyed North Transept
1871 Marine aquarium built by North Tower
Camille Pissarro painted Crystal Palace More info





1891 Kaiser Wilhelm II visited
1895 FA Cup finals held at Park Hill Park (?) - now Athletics track
Early C20/Edwardian
1900 First National Brass Band Festival at Palace
1905 Crystal Palace FC formed, Team played at FA Cup Final ground
1911 Festival of Empire (for George V's coronation)
All Red Route Railway built (on site of old Atmospheric railway tunnel)
Crystal Palace bankrupted by Festival
1913 Palace now run by a charitable trust
World War I
1914 Last FA Cup Final at Crystal Palace
Palace requisitioned for war use
Twenties
1926 Last Crystal Palace Handel Festival with 3,000 choir and 60,000 audience recorded.
1927 Speedway racing at Crystal Palace Gardens began
Thirties
1935 Rare film of the Crystal Palace before the fire of 1936.
1936 Crystal Palace destroyed by fire. Newsreel film
Dec Motor circuit increased to two miles and tarmac-ed.
200 acres of land (terraces, lakes & flower beds) sold to London County Council (?)
1937 24 April: Motor-car racing at Crystal Palace began. 17 July: London Grand Prix.
1939 Speedway finished at Palace. Motor car racing suspended due to outbreak of war
Forties
1941 16 April: North towers & old aquarium demolished. Gardens requisitioned for war use.
1945 Park in state of decay after war.
1948 Crystal Palace Gardens partly opened to public
Fifties
1950 Remains of South Wing destroyed by fire
1951 LCC agreed to have Motor racing back.
31 Dec: Crystal Palace Trust dissolved. Reopened as Crystal Palace Park by LCC
1952 Crystal Palace Zoo opened. Plans for a National Youth & Sports Centre put forward.
1953 May 23: Motor-racing back but circuit nearly halved.
Upper & lower terraces listed as Grade II
1954 Peckham - Crystal Palace line and High Level station closed
1957 31 Dec: Crystal Palace Transmitter opened.
Sixties
1960 Work began on Sports Centre
1961 Motor-racing start-line moved up due to building works.
Crystal Palace Bowl opened for music concerts
1962 Gorilla statue by David Wynne added (donated by London Zoo?)
1964 The National Sports Centre opened in Crystal Palace Park as one of five for the UK. It consisted of an athletics stadium (capacity of 15,500+) and an indoor sports building designed by Norman Engleback (1927-2015).
1967 film of the new Sport Centre
Seventies
1971 Crystal Palace Garden Parties at Crystal Palace Bowl ran until 1980 as one day Rock Festivals. Groups included: Pink Floyd, Beach Boys, Lou Reed & Eric Clapton.
1972 Motor Racing stopped in Crystal Palace Park, Sept 23: Last meeting
Subway from High level listed Grade II
1973 Dinosaur sculptures listed Grade 1I
Eighties
1982 Start/finish of old Motor Racing circuit now used by model radio cars
1983 Restoration of terraces
1980s London Philharmonia (?) concerts at Bowl
1986 Bromley Council took over running of Park from GLC.
Nineties
1997 Crystal Palace Recreation Centre listed Grade II*
1997 New Crystal Palace Bowl stage
C21
2002 Dinosaur sculptures restored
Sex Pistols played Crystal Palace Sports Centre
2003 Bruce Springsteen played Crystal Palace Sports Centre
2005 Coldplay played Crystal Palace Sports Centre
LDA take over Crystal Palace Recreation Centre - will maintain Centre until 2012
2007 Dinosaur sculptures relisted Grade 1
2008 Crystal Palace Recreation Centre refurbished
2009 April: Completion of refurbished?
________________________________________________________________________________

Further reading:
The Phoenix Suburb - Alan Warwick (1972/RP 2009 Norwood Society)
Racing At Crystal Palace. A History Of Motorsports At London's Own Race Circuit 1927-1972
- Phillipp Parfitt (MRP 1991)
Crystal Palace Dinosaurs - Steven McCarthy (CP Foundation 1994)
The World For a Shilling - Michael Leapman (Headline 2001)
Palace of the People: The Crystal Palace at Sydenham 1854-1936 - Jan Piggott (Hurst 2004)
A Thing In Disguise : The Visionary Life of Joseph Paxton - Kate Colquohoun (Fourth Estate 2003)
100 Years of Crystal Palace Football Club - Nigel Sands (NPI Media group 2005)
________________________________________________________________________________

Websites
www.crystalpalacefoundation.org.uk
www.ukrockfestivals.com
Crystal Palace 1854 Guide
________________________________________________________________________________

CDs
Live at the Crystal Palace, Choirs and Bands 1926-1934 Beulah 1PD1
www.eavb.co.uk