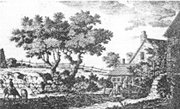 Lewisham Mill
Lewisham is located on the Ravensbourne river. The village centre was around the High Street and it was originally in the county of Kent. The name comes from Old English and may have meant 'Leofsa's village'.
---
Saxon Lewisham


862 Reference to Liofshema mearc.
918 Reference to Lieuesham. Lewisham, Grrenwich and Woolwich were bestowed to Abbey of St Peter at Ghent by Elfrida, daughter of Alfred the Great.

---
Mediaeval Lewisham


1086 Reference to Levesham Domesday Book. Described as follows 'There is arable land for 14 ploughs. In demesne there are 2 ploughs and 50 villeins with 9 bordars have 17 ploughs. There are 3 slaves (serfs) and 11 mills. There are 30 acres of meadow and woodland for 50 hogs'.


---
Stuart Lewisham


1664 Colfe's Almshouses built (restored in 1907).
1693 St Mary's Vicarage built on corner of Ladywell Road by Rev Stanhope.

---
Georgian Lewisham


1774 Stone House built by George Gibson on Lewisham High Road (now Way).
1777 St Mary's Church rebuilt (by George Gibson).
1801 Population of Lewisham was 4,007.
1816 Lewisham described as 'a rural village on the banks of the Ravensbourne....only to be reached by a long coach ride'.
1821 Workhouses built on Rushey Green (now Lewisham hospital).
c.1828 Riverdale Mill built, Molesworth Street (now offices).

---
Victorian Lewisham


High street mansions gave way to numerous shops.
1840 Thackeray Almhouses, Rushey Green, opened.
Lewisham Park opened, previously a field.
1849 North Kent Railway led to Granville Park development plus many
terraces.
1850 Population of Lewisham was 15,000.
1857 Mid-Kent Railway and Lewisham station opened.
1865 St Stephens built.
1866 Congregational Church built.
1895 Hither Green station opened.
1897 Diamond Jubilee clock tower built.
1897 Hither Green Hospital opened.

---
Modern Lewisham


1900 Lewisham became a Metropolitan Borough.
Population of Lewisham was 100,000.
1906 Lewisham Street market started.
1909 St Saviour & St John (John Kelly) built.
1910 Population of Lewisham was 150,000.
1932 Odeon opened.
1933 Royal Co-Op Society stored opened.
1910 Population of Lewisham was 229,000.
1965 Lewisham incorporated Deptford borough.
1972 Sion House demolished.
1977 Lewisham Shopping Centre built.

---
Booklist


History of the Borough of Lewisham - Leland Lewis Duncan (1908)
Lewisham, a Historical Record (1950)
History of Colfe's Grammer School 1652-1972 - Ed. by H Beardwood (1972)
Hither Green, Forgotten Hamlet
Looking Back at Lewisham - Lewisham Borough Council (199*)
Lewisham a History and Guide - John Coulter (1994 Alan Sutton)

---
Local Information
:

Lewisham Local Studies Library, 199-201 Lewisham High Street.
Lewisham Historical Society (details from Library)