Prehistoric Walworth

Remains of a mammoth found under Hillingdon Estate
---
Roman Walworth


C1 Old Kent Road built on Roman road (Watling Street)
Newington Butts and Newington Causeway built on Roman Stane Street,

---
Saxon Walworth


C5 Saxons called the area Wealawyrd or Waleorde meaning ³farm of the Britons¹
c1015 King Edmund Ironside granted Hitard, a court jester, land in Walworth.
1052 Hitard went on a pilgrimage to Rome. Made over his land to Church of Christ in Canterbury, Canterbury Cathedral.

---
Medieval Walworth


1086 Walworth was described in Domesday Book. Mentioned land for ploughing and growing corn and eight acres of meadowland for cows. Walworth now a village in Surrey seperated from Camberwell by a stream
which ran by Boundary Lane on Walworth Common (where Aylesbury Estate is situated now).
1212 Reference to St Mary church in Newington.
C15? Pilgrims to shrine of Becket at Canterbury Cathedral stopped to water horses at stream on Old Kent Road on Walworth Common. Place was known as St Thomas a Watering (now Thomas a Becket pub).
1415 Clergy of London met Henry V at St Thomas a Watering after his victory at Agincourt. Old Kent Road was also known as Kinges Street.

---
Tudor Walworth


Manor House built?

---
Stuart Walworth


1641 John Flaxman, a blacksmith, set up a forge on an island where Elephant & Castle silver underground substation now is located.
1642 Almshouses built for 16 old people near to Elephant & Castle (now Draper House).
1681 Map of Walworth made for Dean and Chapter of Canterbury Cathedral.
Map showed St Mary Newington church, a maypole on Newington Causeway and a common called Lattam-more (Lower Moor) now Lorrimore Square.

---
Georgian Walworth

1710 St Mary Newingtonschool started by the Church (until 1965).
1734 Walworth workhouse established west of Walworth Road (closed 1850)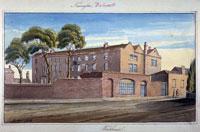 1748 Rocque¹s map of London showed a windmill west of Newington Causeway.and a windmill on Bethwin Road.
1750 Old Westminster Bridge built. Led to new roads to Elephant.
1751 Turnpike Trust upgraded a local footpath into New Kent Road.
c1760 The smithy of 1641 became the Elephant & Castle Inn. Used by stagecoaches.
C18 Manor House (where Manor Place is) demolished.
Tollgates built at Green Man on Old Kent Road, Camberwell Gate (Gate Way) plus 2 at site of flyover on Old Kent Road.
1787 Map of Walworth by Cary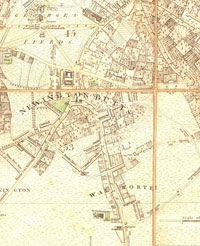 1788 The Paragon built by Michael Searles.
1791 Michael Farady (of electricity fame) born in Newington Butts.
1795 Surrey Square built by Michael Searles.
1801 Population 14,800
1805 Samuel Palmer, the artist, born in Surrey Square.
1808 David Hughson described Walworth Road as "lined by elegant mansions".
---
Regency Walworth
1825 St Peters Church built by Sir John Soane for Church Commissioners as a result of Walworth's expanding population.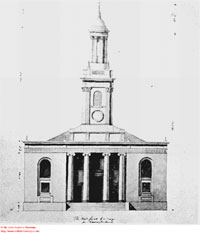 ---
Early Victorian Walworth

1831 Surrey Zoological Gardens opened on Lorrimore common near the Manor House.
1848 Queen Victoria & family visited Zoo. Then named Royal Surrey Zoological Gardens.
1850 Newington workhouse built at 182 Westmoreland Road (now Beaconsfield Road) (Newington Lodge in 1930)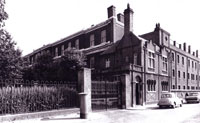 1852 St Peters School.
1856 Surrey Zoological Gardens replaced by Surrey Gardens Music Hall.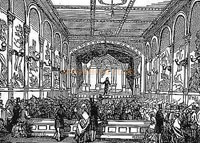 Mid Victorian Walworth
1860 St John built in Larcom Street.
1862 Map
1861 Metropolitan Tabernacle built at Elephant & Castle.
1862 Canterbury Cathedral gave their land in Walworth to Church Commissioners.
Railway built through Walworth.
1866 St John¹s School.
? Vestry of St Mary Newington set up on Walworth Road.
1871 Tram lines laid in Old Kent Road and Walworth Road for horse drawn trams.
1872 Surrey Gardens Music Hall demolished. Penton Place covers part of the site.

Late Victorian Walworth

1889 Charie Chaplin born above a shop in East Street.
1890 Undergound linked to the Elephant. City and South London Railway was first electric line. Later became Northern Line.
1891 Sanford Road School (now Walworth Lower School).
1892 Pembroke College Mission set up by Pembroke College, Cambridge. Carter Street Police station?
Newington Library
1898 The Paragon demolished for new Paragon School, Searles Road.

---
Edwardian Walworth


1900 Vestry became Southwark Town Hall
1901 Population 122,200
1902 Cuming Museum established.
1903 Traders moved off Old Kent Road and Walworth Road by authorities to East Street due to new electric trams.
1904 Eletric trams in Walworth.
1905 Old slums cleared & Faraday Gardens set up by Octavia Hill
1905 St Peters Church Octavia Hill Estate built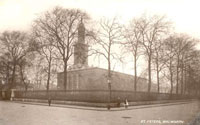 1906 Baker Street and Waterloo Railway (Bakerloo) reached the Elephant.
1908 Electric Theatre opened at 341 Walworth Road
1910 Elephant & Castle Cinematograph Theatre opened (800 seats) at 47-51 Walworth Road
c1910 East Street market photo

---
Pre-War Walworth

1930 Walworth Road (north) towards old Elephant pub




1939 Clubland set up by Methodists.

---
WW2 & Walworth

1940 Walworth bombed in Blitz.
St Peters hit by bombs - seventy people killed in the crypt

---
Post War Walworth
1952 Trams discontinued.
1958 Brandon Estate built.
1960 Film of Walworth Road
1965 Southwark Town Hall moved to Peckham Road when borough of Camberwell was merged with Southwark.
Elephant & Castle Shopping Centre opened. First covered shopping mall in UK.
1969 Newington Workhouse demolished.
1970 Houses cleared for Old Kent Road Flyover.
1971 Film of East Street Market
1974 Heygate Estate completed.
1977 Aylesbury Estate completed.
2014 Heygate Estate demolished
---
Booklist

The Story of Walworth - Mary Boast (Southwark Council 1976)