Elephant & Castle was originally known as Newington. The name the Elephant & Castle comes from a blacksmiths which was converted into a tavern in around 1760. The name is thought to have came from The Cutlers Company The link here is the Indian elephant ivory used for knife handles, in which the Cutlers' Company dealt. The link to the Infanta of Castile is thought unlikely.
---
Stuart Newington

1641 John Flaxman, a blacksmith, set up a forge on an island where Elephant & Castle silver underground substation now is located.
---

Georgian Elephant

1750 Old Westminster Bridge built. Led to new roads to Elephant.
1751 Turnpike Trust upgraded a local footpath into New Kent Road.
c1760 The smithy of 1641 became the Elephant & Castle Inn.
Used by stagecoaches.
1787 Map of Newington by Cary
c1800 Print of the Elephant & Castle pub after Rowlandson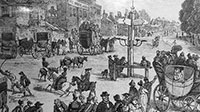 ---

Regency Elephant

1815 Royal Bethlehem Hospital built by James Lewis.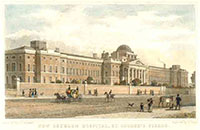 1826 Elephant & Castle coaching inn painting by James Pollard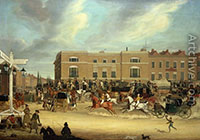 ---
Early Victorian Elephant

1835-1846 Additions to Royal Bethlehem Hospital by Sydney Smirke
1848 St Georges Roman Catholic Cathedral by Augustus Pugin built.
1852 Pugin confined to Royal Bethlehem
---
Mid Victorian Elephant

1861 Metropolitan Tabernacle built at Elephant & Castle.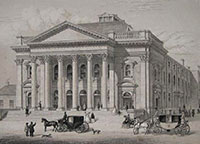 1862 Stanford Library Map of London and its Suburbs with proposed railway route shown.
1863 Elephant & Castle railway station opened
1866 Print of Old St Mary's Newington




1870 Horse-drawn trams served Elephant & Castle
1872 Theatre Royal opened (later ABC then Coronet).
(See Lost Theatres and Cinemas of the Elephant & Castle)
1876 St Mary's Newington demolished for road widening scheme/
A new church was built nearby on Kennington Park Road designed by by James Fowler
1877 A clock tower, the gift of a churchwarden, R. S. Faulconer, was built to mark the site of the old St Mary's church.
1878 Theatre Royal burnt down replaced by Elephant & Castle Theatre.
---
Late Victorian Newington

c1888 Photo of Elephant & Castle pub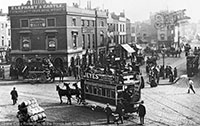 1890 Undergound linked to the Elephant. City and South London Line.
Railway was first electric line. Later became Northern Line.
1898 Elephant & Castle pub rebuilt by John Warren
---
Edwardian Elephant
1906 Baker Street and Waterloo Railway (Bakerloo) reached the Elephant.
1908
Bartholomew's Atlas of London & Suburbs

c1912 Tram terminus at Elephant & Castle.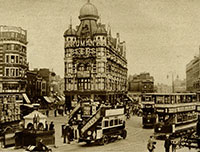 ---
Inter-War Elephant
1920s Trams at the Elephant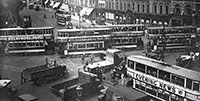 1926 film of Elephant & Castle (from 0:36)
1930 Trocodero opened (3.500 seats). Designed by George Coles as a Super Cinema.
(See Lost Theatres and Cinemas of the Elephant & Castle)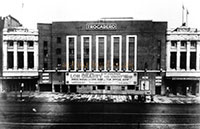 1931 Elephant & Castle Theatre became cinema - Theatre Royal
1935 Trocodero became Gaumont.

---
Elephant in WW2

1940-41 Elephant & Castle area heavily damaged in the Blitz
St Mary's Newington destroyed
Metropolitan Tabernacle damaged
St Georges Roman Catholic Cathedral badly damaged by incendiary bomb
1944-45 V-bombs destroyed large sections of the Elephant

---

Post war Elephant

1949 Bert Hardy took a series of photos of the Elephant for Picture Post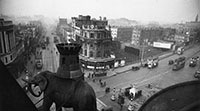 1952 The Elephant Eill Never Forget, a film of last days of the trams in London.
1954 Teddy Boys style started in the Elephant area
(picture taken at Old Kent Road Picture House)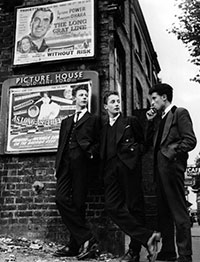 1956: Police were called to break up a crowd of teenagers following the showing of the film Rock Around The Clock at the Trocadero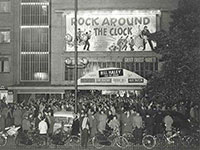 1958 New St Mary's Newington built on Kennington Park Road
1959 Elephant & Castle pub demolished (pub relocated to Newington Causeway in 1960s). Its model of an Elephant with Castle was later moved in front of Shopping Centre
1961 Electricity transformer enclosed in steel as Michael Farady monument.
1962 Redevelopment plan for Elephant & Castle.
(p86 Southwark1998)
London College of Printing built.
1963 Gaumont (old Trocodero) closed
Ministry of Health (by Erno Goldfinger) buildings rep;laced it.
1964-5 Odeon cinema by Erno Goldfinger (on site of larger Trocadero).
(See Lost Theatres and Cinemas of the Elephant & Castle)
1961-5 E&C Shopping Centre built by Boissevain & Osmond
The Centre was the first covered shopping mall in the UK.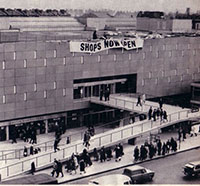 Draper House opened. It was the tallest residential tower in London when it was built. It was in the Brutalist style but with Sicilian marble stone panelling, a suprising touch for a council block. It takes its name from the almshouses founded by the Drapers City livery company which formerly occupied the site.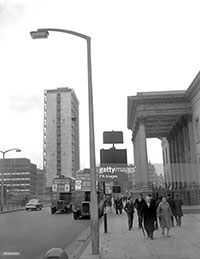 1967 Theatre Royal replaced by ABC Cinema (later became Canon & Coronet).
1971 St Mary's Clock Tower demolished
1988 Odeon Elephant & Castle closed down (now Metro Heights).
1999 Coronet closed down as a cinema.
1999 Regeneration of Elephant & Castle planned

---

C21

2003 Coronet re-opened as music venue.
2006 South Central East completed.
2007 Castle House & part of Heygate Estate demolished.
2008 Strata House built on Castle House site.
2016 Castle Centre swimming pool and leisure centre opened

---
Book List:
Elephant Boys - Brian McDonald (Mainstream 2000)
Elephant & Castle A History - Stephen Humphrey (Amberley 2013)
Alice Diamond and the Forty Elephants - Brian McDonald (Mainstream 2015)