Originally Camberwell was a small village in the county of Surrey.
---
Medieval Camberwell

1086 Domesday Book mention of Ca'brewelle and St Giles Saxon church
1152 St Giles church rebuilt in stone


---
Stuart Camberwell


1615 Wilson's school founded (moved out of London in 1975)
1665 Great Plague - over 100 residents died
1674 Parishioners formed vestry (local council untilChroniclers: John Aubrey on Camberwell
---
Georgian Camberwell

1717 Champion Lodge built on corner of Love Walk and Denmark Hill for Champion de Crespigny family with 30 acres of parkland. The boundary wall remains on Love Walk.
1739 Map of Friern Manor (British Museum) showed Camberwell Green
1745 John Rocque's map of Camberwell showed:
Rainbow lane (now Southampton Way)
Lamastee Lane (now Wyndham Road)
Walnut Tree Grove (now Camberwell Grove)
1748 Camberwell Hall built
1769 Blackfriars bridge opened, linked Camberwell to city, led to new building
1775 Walnut Grove (later Camberwell Grove)





1779-80 Lettsom's villa, Grove Hill (demolished 1890s)
1782 Tollgate set up near Walworth Common (Westmoreland Rd)
1786 Old St Giles church expanded





1789 Plan of Camberwell Green showed Camberwell Green farm facing Green
1790 Queen Lane (now lower part of Grove Lane)
1791 Map of Friern Manor
Chroniclers: Lyson, Manning & Bray on CamberwellNo 23 Champion Hill built by Michael Searles
---
Regency Camberwell

1801 Census for parish of Camberwell - 7,059
1809 History of Surrey written by Manning
1801-11 Grand Surrey Canal (now Burgess Park)
1812 Robert Browning born in Rainbow Cottage, Cottage Green, off Wells Way
1818 Camberwell New Road developed
Beresford Street Chapel built (now ruined)
Print of Dr Lettsom's Grove Hill house





1819 Grove Chapel (Roper) built
1821Chumleigh Gardens - Female almshouses
1823 Attempt by Camberwell Vestry to close down Camberwell Fair, failed.
John Ruskin (aged 14) moved to 163 Denmark Hill (demolished in 1949)
1824 St George's Church, Wells Way





Robert Browning moved to Hanover Cottage, Southampton Way ?
1825 Denmark Place Baptist Church built
1827 First Vestry building, Havil St
1835 Horse drawn Omnibus service introduced from Camberwell
---
Early Victorian Camberwell
1837 Cary's map of London
1840s Champion Lodge demolished and Champion Hill developed
1840 Allport's History of Camberwell
1841 Census for parish of Camberwell - 39,868
Old St Giles Church burned down
1842 Map of Camberwell (J Dewhirst)
Spring Song (originally Camberwell Green) composed by Mendelssohn
1844 New St Giles Church (George Gilbert Scott)





1851 Thomas Tilling omnibuses (Peckham-centre)
1852 Wren Road church built on site of 'old house on the Green'
1855 Last Camberwell Fair

1859 Camberwell Green opened as a public park
Cecil Sharp - born Denmark Hill


Mid Victorian London

1861 Census for parish of Camberwell - 71,488
Old Bowyer Manor House demolished (near Castlemead)
1862 Camberwell New Rd station (Station Rd) opened (closed 1916)
Camberwell Gate station (John Ruskin St) opened (closed 1916)
1863 Royal Flora Gardens closed (Wyndham Rd)
1866 Denmark Hill station opened
1872 Ruskin moved out of Camberwell (due to new railways spoiling his view)
1873 New Vestry Hall, Peckham Road
1875 Blanche's history of Camberwell published. Written at 55 Denman Rd.


Late Victorian London

1876 St Marys Church, Camberwell New Rd, built
Mary Datchelor's school opened
1889 Cambridge House mission established
1891 Census for parish of Camberwell - 235,344
Cavalry Temple, Cam New Rd, built
South London Art Gallery built
Camberwell Baths built
1896 Camberwell School of Arts & Crafts built
1899 National Westminster Bank, 17Camberwell Green built (now surgery)
---
Edwardian Camberwell

1900 Borough of Camberwell established
Colour-tinted postcard of Camberwell Green





1901 Census for parish of Camberwell - 259,339
1902 North Camberwell Library, Wells Way
Hermit's Cave public house
1905 Lyndhurst Junior School built
1907 Ruskin Park established
1910 Camberwell Green Peabody Trust flats built
1912 Cinematography Theater, Cam New Rd, opened
1913 Kings College Hospital built by WA Pite

---
Camberwell in WW1

1915 Maudsley Hospital built
Lionel Morrekton's Chalk Farm to Camberwell Green by Gertie Millar
1916 Camberwell New Rd and Camberwell Gate stations closed
1917 Zeppelin air raid on Calmington Road (now in Burgess Park) killed 12 people.



---
Prewar Camberwell

1927 Grove House Tavern rebuilt
1932 William Booth Memorial Training College built by Giles Gilbert Scott
1934 Camberwell (now Southwark) Town Hall built
1939 Empire rebuilt as Odeon cinema (by Mather - closed 1975, now Foyer Centre)



---
WW2 Camberwell

1943 Plan for Burgess Park, open space required, slum clearances

---
Post War Camberwell

1954 Champion Park estate opened (on site of Ruskin's house)
1959 Sceaux gardens Estate- early example of high rise build
1960 Camberwell School of Arts extension built
1961 HJ Dyos' Victorian Suburb published (in depth study of Camberwell)
St Giles Trust founded
1964 Wyndham Estate built
Syd Barrett (later of Pink Floyd) attended Camberwell Art School
1965 Kings College Dental hospital opened
Camberwell Borough became part of expanded Southwark Council
1967 St Giles Vicarage demolished to make way for St Giles Centre
Pink Floyd first official photo session was in Ruskin Park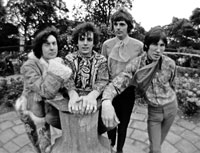 1968 Kings College Extension high rise block opened
1970 Grand Surrey canal closed.
Camberwell Society formed.
1971 Magistrates Court, Camberwell Green, opened
1972 Castlemead Estate on Camberwell Road by GLC Architects
1974 Burgess Park named
1982 Selbourne Estate built by Wates ?
1984 Denmark Hill station rebuilt after 1980 fire
1986 House of Love founded. Based in Camberwell
Chumleigh Gardens restored in Burgess Park as World gardens
1995 Foyer homeless centre set up by Centrepoint
2012 Burgess Park re-opened after an £8m redevelopment
2015 New Camberwell library opened by Camberwell Green


---
Further reading

Ye Parish of Camberwell - WH Blanch (1875)
Old Camberwell - Philip Mainwaring Johnston (1919)
Victorian Suburb: A Growth of Camberwell - HJ Dyos (Univ of Leicester 1961)
Story of Camberwell - Mary Boast (Southwark Libraries 1996 rev ed)
Battle of South London - Arthur B Woolf (1945?)