Originally Camberwell was a small village in the county of Surrey.
Edwardian Camberwell

1900
Borough of Camberwell established
Colour-tinted postcard of Camberwell Green


1901
Census for parish of Camberwell - 259,339
1902
North Camberwell Library, Wells Way
Hermit's Cave public house
1905
Lyndhurst Junior School built
1907
Ruskin Park established
1909
New Grand Hall opened at 315-317 Camberwell New Road (seated 814)
1910
Camberwell Green Peabody Trust flats built
1912
Cinematography Theater, Cam New Rd, opened
1913
Kings College Hospital built by WA Pite
---
Camberwell in WW1
1914 Golden Domes Picture Theatre opened at 28-32 Denmark Hill
(later Rex Cinema & Essaldo Cinema and now a supermarket)
Bijou Theatre opened at 37 Denmark Hill (later Denmark Hill Post Office)
1915 Maudsley Hospital built
Lionel Morrekton's Chalk Farm to Camberwell Green by Gertie Millar
1916 Camberwell New Rd and Camberwell Gate stations closed
1917 Zeppelin air raid on Calmington Road (now in Burgess Park) killed 12 people.



---
Prewar Camberwell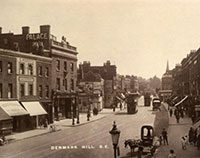 1921 View of Denmark Hill with Camberwell Palace on left and Camberwell Empire at top
1927 Grove House Tavern rebuilt
1932 William Booth Memorial Training College built by Giles Gilbert Scott
1934 Camberwell (now Southwark) Town Hall built
1939 Empire rebuilt as Odeon cinema (by Mather - closed 1975, now Foyer Centre)



---
WW2 Camberwell
1940 Camberwell bombed during Blitz.
Regal Cinema opened at 254-272 Camberwell Road (bombed same year)
1943 Plan for Burgess Park, open space required, slum clearances
1944 Camberwell suffered loss of life and damage to property from Flying Bombs
---
Post War Camberwell
1954
Champion Park estate opened (on site of Ruskin's house)
1959
Sceaux gardens Estate- early example of high rise build
1960
Camberwell School of Arts extension built
1961
HJ Dyos'
Victorian Suburb
published (in depth study of Camberwell)
St Giles Trust founded
1961
Henry Moore sculpture added to Brandon Estate
1963
The Changing Face of Camberwell film
(38 minutes)
(32:00 Surrey Canal & Burgess Park)
1964
Wyndham Estate built
Syd Barrett (later of Pink Floyd) attended Camberwell Art School
1965
Kings College Dental hospital opened
Camberwell Borough became part of expanded Southwark Council
1967
St Giles Vicarage demolished to make way for St Giles Centre
Pink Floyd first official photo session was in Ruskin Park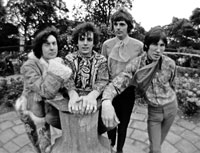 1968
Kings College Extension high rise block opened
Grand Cinema (ex-New Grand Hall) closed (later Bingo Hall & Snooker Hall & demolished in 2014)
1970
Grand Surrey canal closed.
Camberwell Society formed.
1971
Magistrates Court, Camberwell Green, opened
1972
Castlemead Estate on Camberwell Road by GLC Architects
1973
ABC Cinema closed. Became a Bingo Hall and later a church.
1974
Burgess Park named
1982
Selbourne Estate built by Wates.
Lake added to Burgess Park
1984
Denmark Hill station rebuilt after 1980 fire
1986
House of Love founded. Based in Camberwell
Chumleigh Gardens restored in Burgess Park as World gardens
1995
Foyer homeless centre set up by Centrepoint
2012
Burgess Park re-opened after an £8m redevelopment
2015
New Camberwell library opened by Camberwell Green
2017
Demolition of Aylesbury Estate began
---
Further reading

Ye Parish of Camberwell - WH Blanch (1875)
Old Camberwell - Philip Mainwaring Johnston (1919)
Victorian Suburb: A Growth of Camberwell - HJ Dyos (Univ of Leicester 1961)
Story of Camberwell - Mary Boast (Southwark Libraries 1996 rev ed)
Battle of South London - Arthur B Woolf (1945?)