Peckham was originally in the county of Surrey. The name may have meant 'village by the hill'.
---
Roman Peckham
The London-Lewes Roman road ran from Watling Street (now Old Kent Road) along Asylum Way and part of Ivydale Road south.
---
Medieval Peckham
1086 Mentioned in Domesday Book as Pecheha
1100-35 Owned by Henry I. Passed on to son, Robert Earl of Gloucester whobecame Lord of Manor
---
Stuart Peckham
Peckham administered by Camberwell Parish Vestry
1690 No 2 Woods Road built.
---
Georgian Peckham
Mostly green fields. Meadow where Aylesbury Centre is located Rye Lane. Known as South Street. Queen's Road known as Deptford Lane
1700 No 4 Queens Road built
1744 Stagecoach operated to city
1765 Oliver Goldsmith was a teacher at Dr Milner's Academy
1767 William Blake (aged 10) walked to Peckham rye & had a vision of an angel in a tree.
1810 Peckham Rye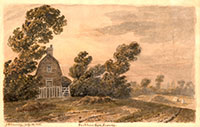 ---
Regency Peckham
1823 River Peck enclosed
1826 Peckham branch of Grand Surrey Canal opened.
Society of Friends Meeting House, Highshore Rd (Quakers)
Peckham Fair ended
1827 Licenced Victuallers' Asylum (now Caroline Gardens)



1827 Peckham Fair abolished
---
Early Victorian Peckham
New roads began to extend from Peckham to Camberwell over fields
1840 Nunhead Cemetery laid out (54 Acres)




1843 Lyndhurst Square developed in the Gothic Style
1851 Tilling operated daily omnibus service from Peckham to Hide Park
1855 Roman Catholic Church built by Pugin at Friary Road
---
Mid Victorian Peckham

1861 Baptist Church built in Peckham Park Road
1862 Stanfords Map of London
1865 Peckham Rye railway station opened
(built by Charles Henry Driver)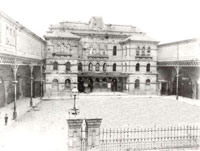 1866 Queens Road railway station opened
1867 Jones & Higgins opened as a small shop (later a famous department store)
1868 Peckham Rye Common (64 acres) bought by Camberwell vestry
1870s Water reservoirs built in Nunhead
1872 Nunhead station opened
1876 Bellenden Road School built
---
Late Victorian Peckham

1882 Henry Holdron opened shop at 53 Rye Lane. It later expanded to 51-57 Rye Lane.
1889 Peckham now part of City of London (was previously in Surrey)
1890 Peckham Rye Park established (49 acres-old Homestall Farm)
1893 Police Station built at corner of Peckham High Street / Meeting House Lane. Choumert Road School built
1898 Crown theatre opened in Peckham High Street (later Peckham Hippodrome)


---
Edwardian Peckham
1900 Peckham part of the new borough of Camberwell.
ca 1900 View of Kings Arms pub, junction of East Dulwich Road & Peckham Rye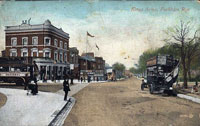 1914 Tower Cinema, 116 Rye Lane opened (now a car park)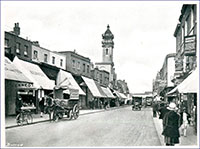 ---
Pre war Peckham

1929 Peckham Hippodrome demolished
1930s Jones & Higgins Departments Store tower built on corner of Peckham High Street & Rye Lane (faces Peckham Square).)1963 photo below)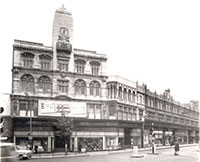 1932 Gaumont Palace cinema opened on site of Hippodrome
1933 Sassoon Flats built in St Mary's Road by Maxwell Fry
1934 Town Hall rebuilt
1935 Pioneer Health Centre opened in St Mary's Road









1938 Peckham Odeon opened at 20-26 Peckham High Street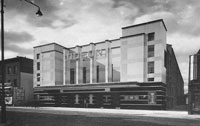 ---
WW2 & Peckham

1940-1 German bombers blitzed London.
1944-5 V1 & V2 flying bombs caused widespread damage & loss of life
---
Post War Peckham
1949 Holdors Department Store closed (51-57 Rye Lane)
1951 Peckham Bus Garage (Wallis, Gilbert and Partners)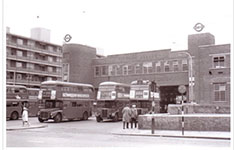 1952 Princess Margaret Opens Flats - Peckham Film
1954 Remember The Old Folk Film
1956 Tower Cinema demolished
1961 Gaumont Palace converted to Bingo Hall
1965 Camberwell and Southwark joined up as Southwark Council
1970 Grand Surrey Canal drained and filled in
1974 Livesey Museum opened on Old Kent Road (closed in 2008 by Southwark Council)
1975 First Sweeney TV episode (Ringer) filmed at Peckham Rye station
1980 Jones & Higgins Department Store closed
1983 Peckham Odeon closed down
1984 Aylesham Centre opened. Named after a Kent mining village by Southwark Council
1994 Peckham Premier Cinema opened
Peckham Bus Garage (Wallis, Gilbert and Partners) demolished
1997 Peckham Pulse opened
1997 Bellenden Road Regeneration led to gentrification of Peckham south of the railway.
2000 Peckham Library opened




2001 North Peckham Estate demolished & replaced with low level housing.
2002 Gaumont Palace building demolished (now Gaumont House)
2002 Area 10 Art Space set up in Eagle Wharf, behind Peckham Library. by Dimitri Launder and other artists, (The site was located for them by Nigel Hogan, the Peckham Guide editor), It was used by hundreds of artist (including Hannah Barry's first show) and was covered by the FT's Jackie Wullschlager. Helped kick-start the new Peckham art scene.
2005 Heaton Arms pub and the Royal Co-Op demolished.
2006 Hannah Barry Gallery established at a squat in Lyndhurst Way.
2007 Bold Tendancies Sculpture Project opened on roof of disused multi-storey car park.
Peckham Rye Park Café opened.
2010 Area 10 demolished by Southwark Council despite protests
"With the help of these young artists Peckham is pulling itself up by the bootstraps please do not knock it on the head and force it back into a downtrodden and pitiful place. AREA10 is a vital part of the transformation of Peckham from disadvantaged ghetto to the creative engine of a re-imagined London. The offering of a facility that allows a wide range of artistic expression within a socially embedded space is a great catalyst for transformation and Peckham is becoming well known as a place of art and artists." Anthony Gormley . 2010
2012 London Overground extended to Peckham. This led to a large number of bars, cafes and restaurants opening in the area.
2013 Hannah Barry Gallery moved to Holly Grove
---
Further reading:

Health the Unknown: Story of Peckham Experiment - J Cornerford (1947 Hamish Hamilton)
Nunhead Cemetery - James Stevens Curl (ca 1975 Ancient Monuments Society)
The Story of Peckham - John D Beasley (1976 London Borough of Southwark)
Looking Back - Peckham Literacy Project (1978)
Nunhead Notables - Ron Woolacott (1984 Friends of Nunhead Cemetery)
Who Was Who In Peckham - John D Beasley (1985 Chener)
Nunhead Cemetery (1988 Friends of Nunhead Cemetery)
Origin of Names In Peckham & Nunhead - John D Beasley (1993 South Riding Press)
Peckham & Nunhead - John D Beasley (1995 History Press)
Peckham & Nunhead Churches - John D Beasley (1995 South Riding Press)
Peckham Rye Park Centenary - John D Beasley (1995 South Riding Press)
Transport in Peckham & Nunhead - John D Beasley (1997 South Riding Press)
Peckham & Nunhead Memories - John D Beasley (2000 Tempus)
The Peckham Settlement - J Stepens & I Tyrrell (2002 Stephens Press)
Peckham & Nunhead Through Time - John D Beasley (2009 Amberley Press)