East Dulwich was originally in the county of Surrey. It is a classic example of a late Victorian suburb.


---
Saxon Dulwich
967 Edgar the Peaceful granted Dilwihs to a thane. Dilwihs meant 'meadow where the dill grew'
---
Medieval Dulwich
Lordship Lane was the boundary of Dulwich Manor with Friern Manor
---
Tudor Dulwich
1538 Dulwich no longer property of Bermondsey Abbey with Dissolution
1544 Dulwich granted to Thomas Calton by Henry VIII.
---
Stuart Dulwich
1605 Estate sold to Edward Alleyn by F Calton
---
Georgian Dulwich
1725 Friern Manor farm house built.
1739 Spa set-up by a Mr Cox the owner of the Green Man (now Grove Tavern Harvester)
1740s Cox's Walk cut to link Dulwich Spa with Sydenham Wells
1799-1801 Byron went to Dr Glennie's Academy (previously The Green Man)
1803 Samuel Matthews, The Dulwich Hermit, was murdered in Dulwich Woods
1805 (+1814) Dulwich Common enclosed
1820 Print of Dr Glennie's Academy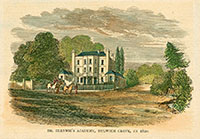 c1825 Dr Glennie's Academy closed
1826 East Dulwich Chapel built at start of Lordship Lane opposite Goose Green.
---
Early Victorian Dulwich
1851 Dulwich's population: 1,632
Old Camberwell Cemetery opened on Forest Hill Road
---
Mid Victorian Dulwich

1862 map of rural Dulwich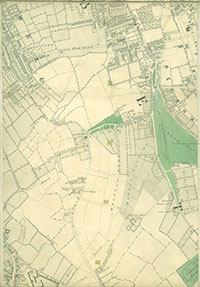 1863 Dr Glennie's Academy rebuilt as The Grove Tavern
1864 Friern Manor sold to property company
1865 St John's Church built amidst green fields.
Lordship Lane Railway Station opened near to Wood Vale (it ran to Crystal Palace).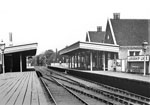 1868 East Dulwich station opened as Champion Hill Station
1872 St John's & St Clements school moved to Northcross Road.
1873 Concrete House built -549 Lordship Lane.
Friern Manor farm closed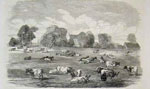 1874 St Peter's Church, Dulwich Common, built.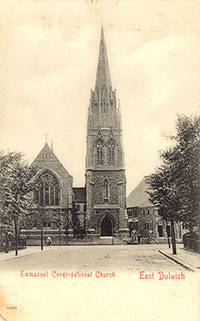 1877 Emmanuel Congregational Church opened on Barry Road
---
Late Victorian Dulwich

1880s House building boom in East Dulwich
1883 Heber Road School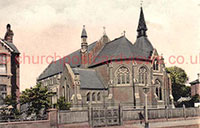 1885 St Clement's Church opened on Barry Road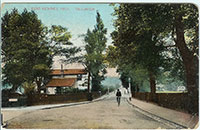 Postcard of Dog Kennel Hill pre-tram
1887 Dulwich Hospital opened
Boris Karloff born at 36 Forest Hill Road
1890 Dulwich Park opened
Dulwich Grove Congegational Church opened on Melbourne Grove.
1892 Dulwich Baths opened on East Dulwich Road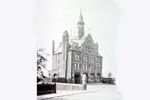 1893 Dulwich Fire Station opened (closed 1947 after war damage).
1897 Dulwich Library opened
Enid Blyton born at 354 Lordship Lane (destroyed in WW2)
---
Edwardian Dulwich
1900 Part of the borough of Camberwell.
Grove Vale School opened.
Dulwich's Population: 10,247
1902 Imperial Hall opened in Grove Vale (later East Dulwich Odeon).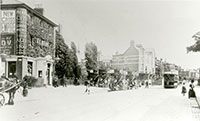 1906 Tram line (electric) built from Camberwell to Dulwich Library via Dog Kennel Hill1908 Epiphany Mission (Architects: Nixon Horsfield & Sons )built in Bassano Street for worship.
1910 Colour-tinted postcard of Lordship Lane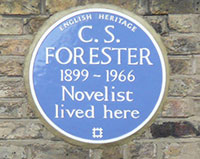 1911 CS Forrester moved to 58 Underhill Road (Blue Plaque) with his family. Attended Alleyn's School.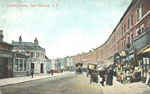 1912 Dulwich Hamlet FC moved to Dog Kennel Hill.
Aquarius Golf Club opened.

---
Pre-War Dulwich

1923 Imperial Hall became Pavilion.
Grove Tavern rebuilt
1931 New Dulwich Hamlet FC stadium opened.
1938 Pavilion opened (later East Dulwich Odeon).

---
WWII & Dulwich
1940 German bombers blitzed London.
1944 V1 & V2 flying bombs caused widespread damage & loss of live especially on Sat 5 August: when the Co-op in Lordship Lane was hit by a VI flying bomb & 23 people killed.

---
Post War Dulwich

1946 Pavilion, Grove Vale, became Odeon East Dulwich.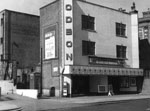 Many prefabs built for emergency housing
1952 End of electric trams.
1958 New St Clement;s Church built off Barry Road on site of previous church destroyed in WW2.
1965 Became part of new borough of Southwark.
1966-72 Dawson Heights, Overhill Road, built by Southwark Council.
1972 East Dulwich Odeon closed. Later became London House.
1977 East Dulwich Police Station opened.
1990s Gentrification of East Dulwich.
1994 St John's & St Clements school moved to Adys Road.
2003 London House (old East Dulwich Odeon) demolished.
---
Bibliography:
The Story of Dulwich - Mary Boast (1975 London Borough of Southwark)
East Dulwich - John D Beasley (South Riding Press 2001)
Dulwich: A History - Brian Green (2002)