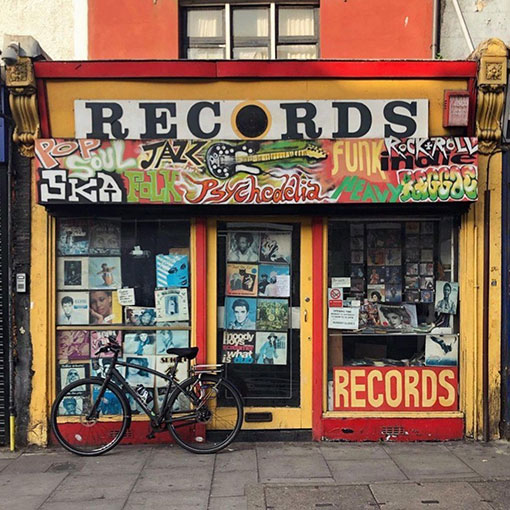 South London has always had a good selection of independent record shops.
In the past it was The Swing Shop (1946-1979) in Streatham for Jazz & Blues,
Soul City (1966-1970) in Deptford, Dub Vendor's Clapham shop (1982-2011)
for Reggae (but still online). Here is a list of the current shops trading.
RIP Rat Records, Camberwell. Shop closed in June 2022.
Beckenham
Wanted Music, 415 Croydon Road, BR3 3PP
Moved to Croydon Road in 2004.Owner: Adrian
Brockley
Lorenzos, 260a Brockley Road, SE4 2SF
New and second hand vinyl specialist.
Brixton
Pure Vinyl, 246 Ferndale Rd, London SW9 8FR
Est: 2015 in Reliance Arcade. Moved in 2017. Owner: Claudia
Croydon
101 Records, 21 North End, CR0 1TY
Long established record/vinyl/DVD/CD store. Owner: Duncan
Crystal Palace
Palace Vinyl, I Victory Place, SE19 3RW map
Record emporium with a 25 year trading history. Owner: Chris
Sound Vinyl, 32 Church Road, SE19 2ET
Second Hand Records at Bambinos. Owner: Andy.
Forest Hill
Leaf and Groove (est. 2017), 57 Dartmouth Road, SE23 3HN
Owners: Archie Parker Cafe & community. Stock: second hand books and vinyl
Greenwich
Casbah Records, 320-322 Creek Road, SE10 9SW
Est: 2009. Owners: Graham and Tony.
Lewisham
Records, 70 Lee High Road, SE13 5PT
Old school record shop established 30 plus years ago. Owner: Aiden
New Cross
Vinyl Hunter, Avalon cafe, Juno Way, SE14 5RW
Hybrid shop selling records and organic foods.
Peckham
Maestro, 163 Rye Lane, SE15 4TL
Reggae and more. Previously Reed Records. Owner: Michael
West Norwood
Book and Record Bar, 20 Norwood High Street, SE27 9NR
Est. 2013 by Michael Johnson. The Story
Stock: second hand books and vinyl. Also coffee, soft and alcoholic drinks.