The village was originally in the county of Kent. The name comes from OE and may have meant Elta's Village.
---
Roman Eltham


Watling Street passed along what is now Shooters Hill.

---
Norman & Medieval Eltham


1086 Elteham listed in Domesday Book as a manor belonging to Odo, Bishop of Bayeux
1295 Eltham manor house rebuilt by Anthony Bek, Bishop of Durham.
1305 Eltham manor & house presented to Edward (II). Eltham Palace extended for Edward II's queen.
1356 Edward III met ransomed King John II of France at Eltham Palace.
1479 The Great Hall contructed with large hammer beam roof (3rd largest in England).
C15 Bridge built across Eltham Palace moat.

---
Tudor Eltham


1525 Well Hall barn built, part of manor house of William Roper Palace used as a hunting lodge.

---
Stuart Eltham


1659 John Evelyn visited Eltham Palace and found it in disrepair.
1663 Manor was leased to Sir John Shaw. He left the Palace as a ruin.
1664 Eltham Lodge built for Sir John Shaw by Hugh May in the Great Park.
1694 Philipot Almshouses founded on Eltham High Street.

---
Georgian Eltham


1720 Greyhound Inn rebuilt.
1733 Well Hall demolished.
1784 Severndroog Castle by Shooters Hill built by R Jupp for Lady James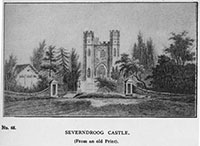 ---
Victorian Eltham


1875 SWt John¹s Church opened.
1889 Eltham Lodge became Eltham Golf Club.
1890 Avery Hill mansion built by TW Cutler.
1895 Eltham Park Station opened.
1899 Edith Nisbet lived in Eltham at Well Hall until 1922.

---
Modern Eltham

1903 Avery Hill Park opened.
Bob Hope born in Eltham (died 2003 in USA).
1906 Avery Hill College opened in Avery Hill Park.
Eltham Library by Maurice Adams opened in Eltham High Street.
1910 Shooters Hill Water Tower built.
1914 Repairs to roof of Eltham Palace.
1915 Progress Estate built on Wells Hall Road to house senior & skilled
Woolwich Arsenal workers.
1920 Eltham by-pass built (Sidcup Way)
1922 Palace Cinema opened on corner of Eltham High Street & Passey Place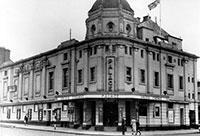 1923 Royal Blackheath Golf Club moved to Eltham Golf Club.
1930 Philipot Almshouses moved to Philipot Path.
Well Hall house demolished with its grounds remaining as a park.
1931 Lease for Eltham Palace given to Stephen Courtauld.
1936 Part of Well Hall converted to an art gallery.
Odeon Well Hall by Andrew Mather opened (1,028 seats)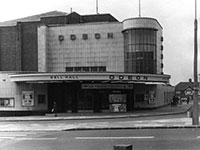 1937 Courtauld renovated the Palace and linked it to a new house.
1939 Odeon Cinema by Andrew Mather opened on Eltham Hill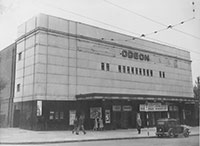 1945 War Department took over Eltham Palace.
1948 Coldharbour Estate in garden-suburb style.
1961 Shopping Centre opened.
---
Book list
:

Eltham Palace - DE Strong (DoE guide 1958)
The Story of Eltham Palace - R Brook (1960)