The name Sydenham comes from Old English and may have meant Cippa's Village (ham OE for village).
---
Medieval Sydenham


1206 Sydenham then known as Chipeham.
1206 Sydenham then known as Shippenham.

---
Stuart Sydenham


1615 Locals went to court to attempt to stop enclosure.
Mid-C17 Medicinal springs found at Wells Park.
1690 Sydenham then known as Sidenham.

---
Georgian Sydenham
1727
Reference to Greyhound public house

1770
Green Dragon, Sydenham Wells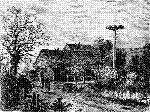 1809 Croydon Canal built.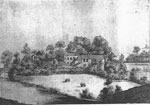 1810 Common enclosed.
1832

St Bartholomew by Vuiliamy opened on Westwood Hill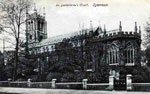 1836 Railway built on old Croydon Canal, which led to development of Sydenham.

---
Victorian Sydenham


1845-8 Railway powered by unique 'atmospheric pressure' traction.
1854 Crystal Palace exhibition moved to near Sydenham.
Sydenham Railway station opened.
1860 William Cobb established first shop at 301 Kirkdale Road
1878 Mayow Park opened as Sydenham & Forest Hill Public Recreation Ground
1884 Ernest Shackleton (aged 10) moved with family from Ireland to 12 Westow Hill
1885 Shackleton attended Fir Lodge preparatory School (pictured in the window)





1887 Sydenham High School opened.
1890 Bell Green Gas works built
1897 Queen Victoria Diamond Jubilee monument built

---
Edwardian Sydenham
1901
Sydenham Wells Park opened (on site of Sydenham Wells Spa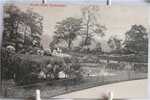 1902
Cobbs Department Store opened at 297-301 Kirkdale Road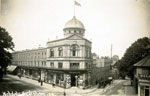 1903
All Saints Church built on Trewsbury Road

1909 Sydenham and Forest Hill roller skating rink opened at 6 Silberdale Road
1910 Queens Hall Electric Theatre opened at 22-23 Empire Parade (now 44 Sydenham Road)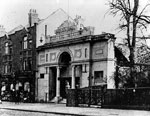 1913 Sydenham and Forest Hill roller skating rink became Rink Cinema
---
Sydenham in the First World War.

1916-18 Rink Cinema requisitioned by the army.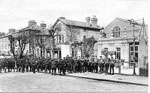 1918 On 20 May a Gotha dropped a 100kg bomb over Lower Sydenham. Buildings were destroyed at the Sydenham Road junction with Fairlawn Park and 18 civilians and five soldiers were killed. The Lewisham Mercury of 24 May reported that "the bodies of the Delahoy family at the dairy, the dairyman, his wife and three daughters, were pulled from the wreckage". (War memorial in All Saints Church)
---
PreWar Sydenham

1920 Criterion Ice Cream Parlour opened at 118 Sydenham Road
1931 State Cinema opened (later Granada) at 74 (?) Sydenham Road
1936 Crystal Palace burnt down
Film
Park Court (Modernist flats) built by Frederick Gibberd in Lawrie Park Road built
Bill Wyman (future Rolling Stone) born in 38 Miall Road, Lower Sydenham (now Miall Walk)

---
Sydenham in the Second World War.

1940 German bombers blitzed London.
1943 Earlsthorpe Road & Sydenham Road shops bombed.
1944-5 V1 & V2 flying bombs caused widespread damage & loss of life.

---
Post War Sydenham
1949 State renamed The Granada
1956 Sydenham School (Comprehensive) opened.
1964 Our Lady & St Philip Neri (RC) opened on 208 Sydenhma Road
1967 St Christopher's Hospice
1971 Granada cinema closed
1981 Cobb's Department Store closed
2010 London Overground service linked to Sydenham.

---
Booklist:

Discover Sydenham & Catford
Forest Hill and Sydenham - Adrian Procter (1987 London Reference Books)
Retracing Canals To Croydon and Camberwell (1986 Living History Publications)
London and Croydon Railway - Adrian Procter (1989 London Reference Books)
Sydenham and Forest Hill - John Coulter (1999 Historical Publications)
Famous residents





Sir Ernest Shackleton (1874-1922)