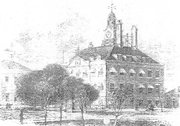 Woolwich Clock House
Saxon Woolwich

Woolwich may have meant 'port from which wool was shipped.'
---
Medieval Woolwich


1380 Ferry recorded at Woolwich.

---
Tudor Woolwich


1512 Royal Dockyard opened at Woolwich.
1514 'Great Harry' ship built at Woolwich (finished at Erith).
1559 Queen Elizabeth ship launched by Queen Elizabeth.

---
Stuart Woolwich


1603 Early reference to ordnance works in Woolwich. Later Woolwich warren.
1662 Pepys visited Woolwich.
1667 English Navy sank own ships as a blockade in Dutch Wars.
1671 Woolwich warren extended after Crown bought adjoining estate, Tower Place.
1696 Royal Laboratory opened.

---
Georgian Woolwich


1717 Royal Brass Foundry (by Vanbrugh?) established.
1717 Dial Square (Smithy etc) opened.
1739 Church of St Mary Magdalene rebuilt from 1727 by Matthew Spray with money from the Fifty New Churches Act of 1711.
1752 Cadets' Quarters built.
1772 Verbruggen's House built.
1782 Eastern half of Royal Artillery Barracks built.
1784 Admiral-Superintendent's House & Office built for Old Royal Naval Dockyard.
1789 Main guard house built for Royal Arsenal.
1790 Woolwich New Road built.
1800 Powis Street opened.
1802 Royal Artillery Barracks expanded westwards.
1805 Woolwich Warren became known as Royal Arsenal after a visit by George III.
1806 Royal Military Academy built by James Wyatt.
1809 Middle Gate House built for Royal Arsenal.
1813 Grand Store by James & Lewis Wyatt, opened.
1816 Methodist Chapel built for barracks.
1822 Rotunda (by John Nash) moved to Woolwich. Museum of Artillery opened in it.
1821 Population of Woolwich - 17,000.
1829 Beresford Gate, main entrance to Royal Arsenal, built (upper part 1897).
1831 Omnibus service opened to London.
1834 Woolwich Steam Packet Ferry established.

---
Victorian Woolwich


1841 Graving Docks opened (now used for recreation).
1842 Old Town Hall built.
1842 St Peters Church opened.
1844 Steam Factory with 200 ft chimney opened.
1845 North Woolwich Old Station opened.
1847 Cambridge Barracks gateway built.
1849 Woolwich Arsenal Station opened on North Kent Line.
1855 Royal Arsenal now covered over 250 acres.
1857 Mallet's Mortar.
c1858 Armstong Rifle Factory opened.
1860 Crimean War Memorial at Royal Artillery Barracks.
1865 Royal Herbert Hospital opened on Shooters Hill Road.
1869 Royal Docks closed.
1871 Population of Woolwich - 35,500.
1878 St Michael & All Angels built.
c1885 Woolwich Free Ferry Opened.
1890 Woolwich Polytechnic opened (now Greenwich University).

---
Modern Woolwich


1901 Public Library by Church, Quick & Whincop established by Carnegie Foundation.
1906 New Town Hall by AB Thomas.
1908 Tramshed built.
1910 Police station opened.
1912 Woolwich Foot Tunnel opened by Fitzmaurice.
1912 Magistrates Court built.
1912 Fire station in Eaglesfield Road probably by CC Winmill.
1925 Woolwich Memorial Hospital by Pite & Fairweather.
1926 Naval Dockyard sold to Royal Arsenal Cooperative Society.
1935 Woolwich Building Society, Vincent Road by Grace & Farmer.
1937 Odeon Cinema by George Coles.
1937 Granada Cinema by C Masey & RH Uren.
1966 New terminals opened for Woolwich Free Ferry.
1967 Ordnance factories at Royal Arsenal closed. Part of site given to housing.
1982 Thames Barrier opened.
1988 Riverside Walk opened.
2001 Museum of Artillery moved from Rotunda to Firepower in Royal Arsenal.

---
Booklist


Records of Woolwich & District - WT Vincent (1890)
The Woolwich Story - EFE Jefferson (1970)
Discover Woolwich - Darrell Spurgeon (1990)
Woolwich Remembered - John Peters (1994 Pentland Press)
Greenwich & Woolwich in Old Photos - KD Clark (Alan Sutton)
Aspects of the Arsenal - Edited by B Burford & J Watson (Greenwich Borough
Museum)